Senior Fitness
You've likely heard it a million times before, but exercise is a key ingredient for health at any age. For those who are 60 or older, regular exercise is crucial for maintaining your quality of life and ability to continue doing the things you love to do as you age. Luckily, there are more ways than ever for older adults to get and stay in shape. But don't just take it from us -- we've assembled a variety of resources below to help you get started on your fitness journey.


The Health Benefits of Getting (or Staying) in Shape
There's a seemingly endless store of research that demonstrates the health benefits of physical fitness. From weight loss to disease prevention to social interactions, the positive impacts of moving your body are seemingly endless. And for seniors, regular exercise is also instrumental in helping to prevent falls - a major cause of hospitalizations for adults aged 65 and older. Read on to learn more.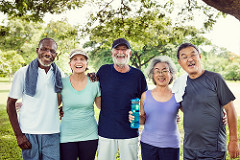 Getting Started with Exercise
It can be intimidating to start an exercise routine if you're new to it or have taken a break for a while. And it's always best to consult your doctor before embarking on any new fitness plan. Whatever your situation, the below resources can help you get back on the path toward physical fitness.
Mastering the Gym
Joining a gym can be a great way to stay fit, and these days, there are more options than ever for gym patrons of all ages. Many gyms today offer not only cardio machines but also group fitness classes (including classes designed for older adults), personal trainers, swimming pools and more. You'll want to take advantage of a gym's free trial periods before deciding which one is right for you.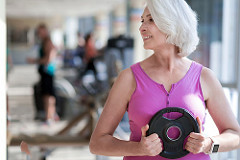 Non-Gym Exercises to Try
While having a gym membership can be motivating for some, it's certainly not required to maintain physical fitness. One advantage for older adults in retirement is that you have more time and flexibility to work in exercise outside of the gym. Whether that means at-home workout sessions or walks in the park, there are a plethora of gym-free options to help you stay healthy.
Helpful Fitness Tools for Older Adults
If you need a little help along your fitness journey, there's an app for that -- or a video, or numerous other tools to give you the boost you need.