Memory Care
Assisted Living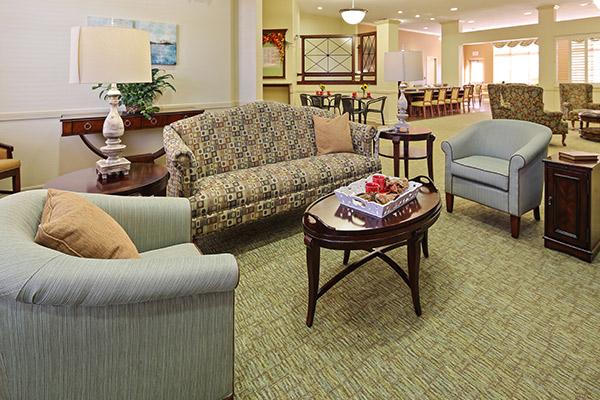 Description of Legend at Rivendell
Imagine joining a senior community that puts the needs of residents first, and not those of shareholders or a corporate board. Imagine a community that has a beautiful campus in Oklahoma City and a schedule full of invigorating activities, but still offers top-of-the-line safety features in every aspect. Now, stop imaging and come see the reality that we offer at Legend at Rivendell.
Legend at Rivendell is one of many senior living communities owned and operated by Legend Senior Living. Legend was founded on values of servanthood, caring and character, and we carry that over to each of our communities. Every day, we strive to meet the physical, mental and spiritual needs of each of our residents.
Featured Amenities
Our community is all about giving residents choices, and that begins with their apartment home. No matter which floorplan is chosen, residents will find their new home to be comfortable and spacious. The choices continue with our activity schedule, which includes games, fitness activities and other social get-togethers that promote new friendships and the overall well-being of each resident.
Perhaps no time better exemplifies the choices offered at Legend at Rivendell than our Gold Leaf Dining program. Each day, residents gather for restaurant-quality meals, served off a variety of menus and taking into account special dietary needs. We even serve meals on linen tablecloths and with crystal glassware, bringing the dining experience to another level.
Available Services
At Legend at Rivendell, we provide our residents with all they need to live a fun, exciting retirement lifestyle, but also provide every service necessary that makes life safe and fun. Our staff members, on-site 24 hours a day, handle the laundry and housekeeping, giving our residents fewer chores to worry about and more time to enjoy life as independently as possible.
And when a new resident joins Legend at Rivendell, we take the time to develop an individual care plan that takes every need into account. No two residents are alike, so neither should two care plans be identical. And when you only get the services you truly need, you won't have to pay for additional (and unnecessary) services, keeping your care level high and your costs low.
When looking for a senior living community that offers fun, safety, personal growth and that won't break the bank, look no further than Legend at Rivendell.
Legend at Rivendell Amenities
Photos of Legend at Rivendell
Tour Legend at Rivendell
The best way to get to know a community is by scheduling a tour. See the facilities, meet the staff and residents, and get a feel firsthand what it's like to live at Legend at Rivendell.
Map of Legend at Rivendell
Costs at Legend at Rivendell
Assisted Living
This level of care provides support for those who need help with personal care needs such as cleaning, bathing, and dressing. Residents selecting this level of care are treated to many amenities in a home-like atmosphere, while getting support in their daily lives.
Reviews of Legend at Rivendell