Assisted Living
Nursing Homes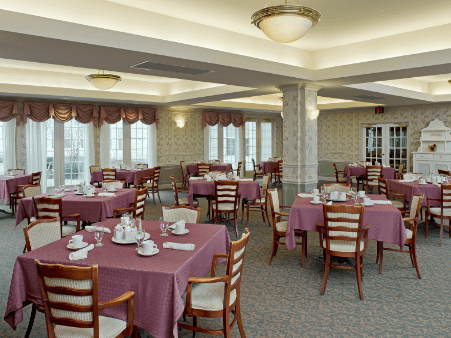 Description of Lorien Mt. Airy
_____________________________________________
An assisted living community nestled in Mt. Airy community that warmly welcomes residents and are cared by attentive staff is Lorien Mt. Airy. Here residents are treated as family and receives the best of both worlds. Our residents experience a purposeful living in our community.
Lorien Mt. Airy's continuity of care, comprehensive programs and flexible services are designed to promote healing, provide the highest quality of life and help ease the transitions shared by residents, patients and their families. You are welcome to explore the possibilities with us.
Featured Amenities
Our community consists of 93 private apartments available in studio and one bedroom apartments that are elegantly built and are built with seniors on our mind. Each home has its own individually controlled air condition, spacious closets and handicapped friendly bathrooms.
Residents have access to our amenities such as ice cream parlors, movie theaters, courtyards and comfortable lounges. Here they get to be independent and remain active with the help of our amenities. Each amenities brings enjoyment to our residents and their families.
Available Services
We offer a wide range of activities that help our residents remain involve, active and stimulated. We have local shopping adventures, outings, games and exercise. We serve our residents nutritious meals without compromising the taste. For residents to make the most of their retirement and do the things they love we will take care of the housekeeping, laundry and maintenance.
Our residents are encouraged to be independent as much as they could. We provide customized care plan to each resident. We help our residents with medication management, daily activities, mobility and companionship.
Come and live in a place where residents are always put first, here at Lorien Mt. Airy
Lorien Mt. Airy Amenities
Room and housing options
Companion Suites: We do not offer companion suites
Photos of Lorien Mt. Airy
Tour Lorien Mt. Airy
The best way to get to know a community is by scheduling a tour. See the facilities, meet the staff and residents, and get a feel firsthand what it's like to live at Lorien Mt. Airy.
Costs at Lorien Mt. Airy
Assisted Living
This level of care provides support for those who need help with personal care needs such as cleaning, bathing, and dressing. Residents selecting this level of care are treated to many amenities in a home-like atmosphere, while getting support in their daily lives.
Nursing Homes
Nursing homes, also called skilled nursing facilities or convalescent homes, serve anyone who requires preventive, therapeutic and/or rehabilitative nursing care. Nursing homes provide residential care for people who don't require hospitalization but need 24-hour care they can't get at home. Some nursing homes are set up like a hospital with staff members providing medical care. Nursing homes also provide a wide range of other services.
Reviews of Lorien Mt. Airy