Illinois Nursing Homes
Cost of Illinois Nursing Homes
The average cost of Nursing Homes in Illinois is $178 per day. This is lower than the national average which is $228 per day.
In Illinois there are 823 Nursing Homes. We can help you find the best matches for your needs.
Illinois Nursing Homes by City
Chicago Area/Chicagoland Nursing Homes
---
Other Areas in Illinois
Map of Illinois Nursing Homes
Overview of Illinois Nursing Homes
Illinois offers a great deal for the residents of the state. With the large city of Chicago, as well as several other cities that are industrial in nature and a range of agricultural areas, living in an Illinois nursing home allows an individual to have easy access to a variety of different activities. Museums, sporting events and shopping are just a few of the favorite pastimes that can be enjoyed by residents. Having access to the best in medical care is crucial to those residents living in nursing homes in Illinois. Fortunately, the state has some of the highest ranking hospitals and research centers in the country. These include NorthShore Evanston Hospital, University of Chicago Medical Center and Memorial Medical Center in Springfield. Illinois offers a wide range of different care options for the seniors residing in the state. Home health care provides services such as skilled nursing care, physical therapy and nutritional counseling in the senior's home. Assisted living facilities provide housekeeping, laundry, meals and basic needs such as bathing and changing clothes to seniors who live in apartment style housing.
Illinois Nursing Homes Defined
For those seniors that need full-time care due to an acute or chronic illness, an Illinois nursing home is the best fit. A nursing home offers skilled care nursing services available, 24-hours a day, for its residents who need them. Intermediate care facilities are for those seniors who need some nursing care as well as help with day-to-day activities such as dressing or eating.
Regulation of Nursing Homes in Illinois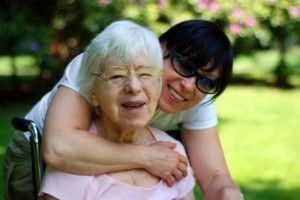 Nursing homes in Illinois are regulated by private and public agencies. Both state and federal agencies are involved, and while they typically have jurisdictions that are separate, there is overlap. Staffing, resident rights, quality of care and dietary services are just a few of the specific areas that are reviewed by the agency. This assessment is typically performed at the nursing home over a period of several days. Each nursing home should have at least two licenses: a license for the administrator of the facility and a license for the facility itself.
Paying for Nursing Homes in Illinois
Charges for an Illinois nursing home include a range of services, such as room and board, meals, housekeeping services and more. Some services, such as therapies ordered by a physician, are typically charged separately. Cost is usually higher in the metro areas, such as Chicago, and lower in the more rural areas of the state. Medicare will sometimes pay for nursing home charges but there are often stipulations
Back to Top