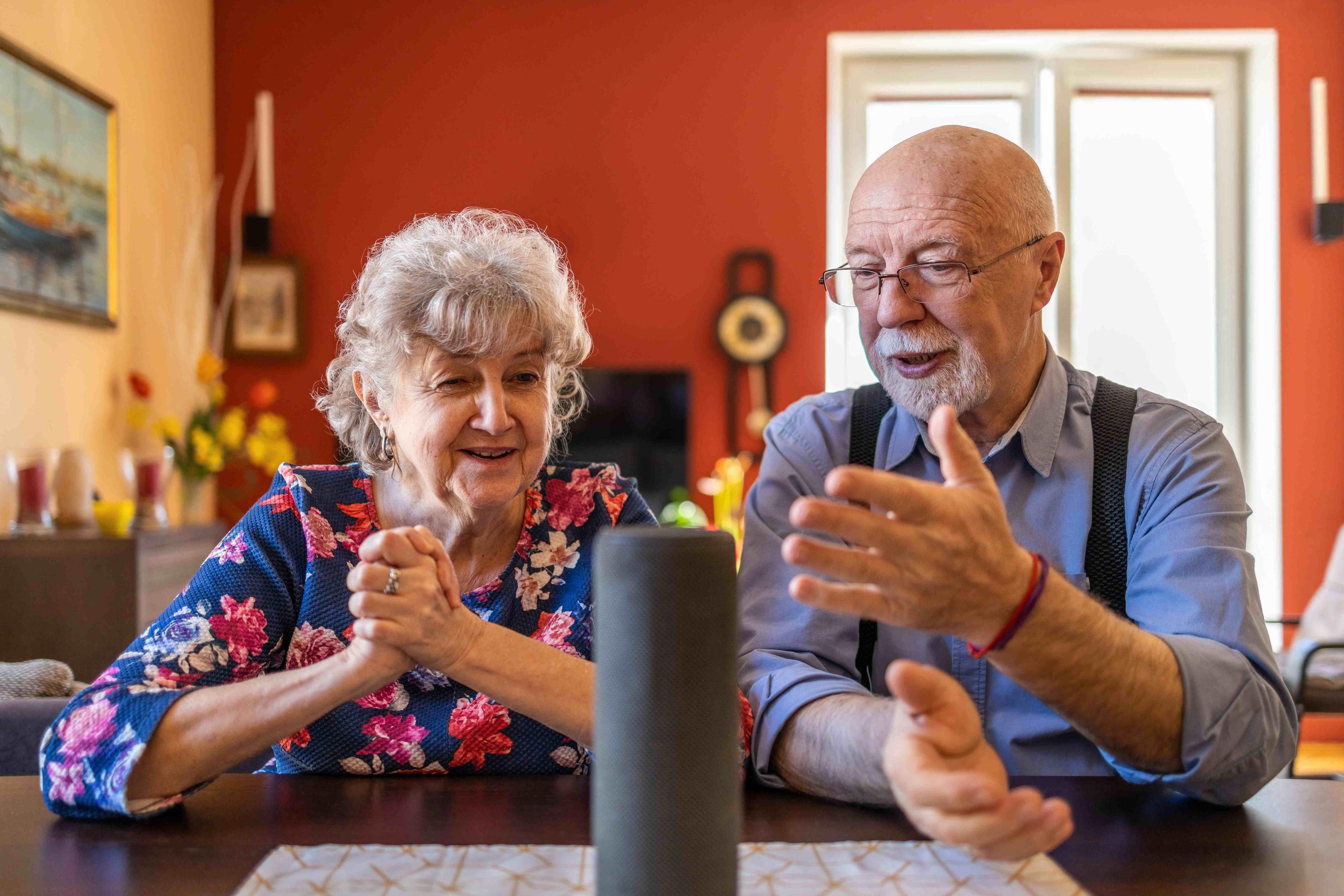 How to Use Amazon Alexa: A Guide for Seniors and Caregivers
Reviewed by: Dr. Brindusa Vanta, MD
Many aging loved ones want to remain in their homes to age in place independently, but leaving them alone may cause you endless anxiety. Worrying over whether they remembered to take their medications or locked the doors before leaving the house or going to bed, among many other concerns, can cause you to stress about the health and safety of a senior relative or friend.
Modern technology may provide an effective solution. Virtual personal assistants and smart-home devices, such as Amazon's Alexa, make it easier for seniors to live alone and maintain their independence. Alexa may help seniors feel safer and more secure in their homes while alleviating caregivers' worries. Studies have shown that Alexa potentially helps seniors age in place with support for their social engagement, health and wellness through smart home technology. 
This guide takes a deep dive into how Alexa benefits seniors and helps increase their safety through the Alexa Together service. It also looks at the various devices that utilize Alexa and provides tips on how to set up the device that powers it.
What Is Amazon Alexa and How Can It Help Seniors?
Alexa is a cloud-based service from Amazon available on hands-free, voice-activated devices such as Amazon Echo. You can also engage Alexa using an app downloadable to a cell phone or tablet and pair it with devices such as Ring doorbells and smart home gadgets. Using voice commands, Alexa acts as your senior loved one's personal assistant, performing requests such as playing music, answering questions, managing calendars and reporting the news and weather. 
Unlike computers and tablets that may be difficult to use for seniors with poor eyesight or arthritis or for those who find learning these systems too challenging, your loved one engages with Alexa through voice commands. Alexa also removes the physical requirement of viewing a screen, making them highly accessible and appealing among older adults.
How Amazon Alexa Devices Can Help Seniors
One highly influential factor in determining a senior's quality of life is their perceived loneliness. One study showed that after interacting with Alexa for 4 weeks, aging adults reported significantly reduced loneliness. Amazon Alexa also helps seniors by making it easier to age in place. It assists with basic tasks such as managing to-do lists and providing entertainment by playing their favorite music, reading stories or telling jokes. Other primary benefits include: 
Create Lists and Place Orders: Ask Alexa to create a grocery list, then tell it to add items as you think of them. When you go shopping, Alexa reads your list from your phone app or orders through Amazon Fresh for at-home deliveries.
Create Medication Reminders: Have Alexa tell senior loved ones when to take medications to eliminate missed or double doses. Alexa can also remind seniors to order prescriptions and refills or order them if they use Amazon Pharmacy.
Get Follow-Up Reminders: Receive important follow-up reminders on paying a specific bill, scheduling a doctor's appointment or making important phone calls.
Control a Home Security System: For peace of mind, use Alexa to arm and disarm security systems and lock all doors and windows before sleeping or leaving the house.
Request Entertainment: Keep boredom at bay through Alexa's wealth of entertainment options. Loved ones can ask it to play music, audiobooks or podcasts, or turn on the television and find their favorite programs.
Schedule Rides: If your loved one no longer drives and you're not available to take them places, ask Alexa to schedule rides by enabling Uber or Lyft.
What Is the Alexa Together Service Plan?
Alexa Together is a remote service designed to help aging adults feel more confident living independently while giving their loved ones peace of mind. This subscription-based, senior-centric service requires seniors to grant permission to connect two Alexa accounts: One account for them and one for their caregiver. Seniors also need an Echo device and Wi-Fi, but caregivers only need the Alexa app installed on a mobile device to use Alexa Together. 
Alexa Together Features and Services
Once established, the service offers several helpful features in the subscription to help ensure your loved one's safety. The following list summarizes popular features.
24/7 Urgent Response
This service provides 24/7 immediate response from qualified agents. Seniors simply say, "Alexa, call for help," to connect with staff who call emergency services if needed. Family or caregivers on the senior's list automatically receive notifications when these calls occur.
Activity Feed
Alexa provides a generalized view of your loved one's interactions through an Activity Feed, so you know they're okay and active. This feed appears in the Alexa app, where you can manage your alerts and access features such as Drop In to connect with your senior loved one through audio or video calls.
Circle of Support
Circle of Support lets you add up to 10 family members or friends to help support your aging loved one. With a network of support, you know someone will be there if you're unavailable. Each person within the circle receives daily alerts through the activity feed to stay up-to-date on your loved one's well-being.
Customized Alerts
Through customizations, Alexa allows you to create alerts that address personalized concerns. For example, you can set up notifications when your loved one first interacts with Alexa each day or if it doesn't detect any activity for a specific amount of time. If you're concerned about your loved one wandering, set alerts for each time they open a door by linking contact sensors to Alexa Together.
Fall Detection Response
Undetected falls can be fatal. Per the CDC, falls are the leading cause of injury and injury-related deaths among the 65 and older age group. Alexa asks your loved one if they need help when a compatible third-party fall detection device detects a fall. Alexa calls Urgent Response and notifies emergency contacts if the senior says, "Yes." 
Remote Assist
Provide a helping hand from anywhere using the Remote Assist functions, which allows you to interact directly with your loved one's Alexa. You can complete various tasks, such as managing device settings, reminders, shopping lists, contacts, music and streaming services.
Amazon Alexa Devices That Can Help Seniors
Your loved one must have a compatible device to interact with Alexa through voice activation. Multiple devices can use Alexa, but Amazon sells a line of Echo devices specifically created to work with the program. Alexa also pairs with Ring, Smart Home and various medical alert devices. Below, you will learn how each device works and how they benefit seniors.
Amazon Echo
Amazon's Echo line of smart speakers works with Alexa by design. Products include hands-free speakers with just audio or with both audio and video. Echo devices connect to Alexa through the internet and use artificial intelligence and deep learning technology to let the cloud-based voice service listen for commands, then perform requested tasks. Devices within the line include:
Echo: Amazon's flagship smart speaker provides audio capabilities only. It's ideal for those new to Alexa and/or looking for a lower-cost option.
Echo Spot: Primarily a smart alarm clock, Echo Spot has a round video screen and a built-in camera on the front, providing audio and visual capabilities. It's essentially a compact, lower-cost version of the Echo Show. 
Echo Dot: A smaller, more portable version of the Echo, the Echo Dot is available at about half the cost. The compact design was initially a puck, but it's now an orb like the Echo with audio-only capabilities.
Echo Studio: The highest-end Echo device without a screen, the Echo Studio is for music lovers seeking a better speaker to listen to their favorite tunes. It features a high-fidelity smart speaker with 3D audio. 
Echo Show: This device includes a display screen, ideal for video calling, streaming videos or displaying photos, calendars, to-do lists and security camera footage for those wanting more than audio. The touch screen offers more direct control while enhancing voice responses with visuals.
Ring Doorbell
Ring doorbell products monitor your front door with video, advanced motion detection capabilities and real-time alerts to let you know when someone is near the entrance. Its two-way talk feature lets you see and speak to people outside your home on your phone or tablet while remaining safely locked inside. Ring has four primary video doorbell products that pair with Alexa to help senior loved ones feel safer alone at home. 
Video Doorbell: Ring's smallest doorbell camera features HD video, two-way talk, advanced motion detection and real time alerts sent to your compatible Alexa device, including the 3rd Generation Echo Dot and Echo Show 5.
Video Doorbell Pro: Ring's improved doorbell camera has dual-band Wi-Fi for faster connectivity, color night vision for better recognition and built-in Alexa to automatically greet guests, provide directions and record video messages.
Video Doorbell Pro 2: The Pro 2 features enhanced head-to-toe and bird's-eye view HD+ video, crisp Audio+ quality, 3D motion detection with radar-powered precision and built-in Alexa for automatic greetings.
Video Doorbell Elite: Ring's professional-grade video doorbell includes noise cancellation on two-way audio, customizable motion zones and Power Over Ethernet to provide the most reliable connection.
Alexa Smart Home
Alexa Smart Home includes various devices to automate your loved one's home and simplify their life. Alexa can "discover" new devices or you can set them up through the Alexa app. Smart home devices are also compatible with Amazon's Alexa Guard home security service. Helpful devices include: 
Thermostats: Adjust the temperature in your home to be comfortable without getting up. Alexa can also control temperatures automatically when you're away. 
Lights: Control smart lights with Alexa at home or away. You can create timers and routines to automate your entire home lighting setup. 
Smart TVs: Enjoy your favorite movies and TV shows without searching for the remote. Voice controls also let you control the volume and turn the TV off. 
Door Locks: Pair door locks and ask Alexa to lock them for you to ensure your safety from the comfort of your bed or use your phone app to make sure you locked up before leaving home.
Smart Plugs: If you have older devices without "smart" capabilities but with physical on/off switches, they may be compatible with smart plugs, allowing you to turn them on and off with Alexa using voice commands.
Hunches are especially useful for older adults who may forget to lock the doors, turn off the lights or lower the thermostat before bed. Alexa gives seniors suggestions about their connected smart devices with Hunches and the user decides whether to accept the suggestion. Using previous commands, Alexa can act on Hunches without asking.
Alexa-Compatible Medical Alert Systems
As part of Alexa Together's fall detection response, if a compatible device detects a fall, Alexa calls Urgent Response personnel to notify a senior's emergency contacts. Alexa works with several third-party medical alert systems, including: 
AltumView: Link AltumView Sentinare sensors to Amazon Echo devices to detect falls. Alexa asks whether your loved one needs help when Sentinare detects a fall and contacts 24/7 Urgent Response service if necessary. The Sentinare sensor instantly identifies falls using a built-in AI chip to monitor activities.
SkyAngelCare: Offered through Assistive Technology Service, the SkyAngelCare pendant is designed specifically for Alexa Together. Although it features an SOS button for manual calls, it automatically detects when a user falls and contacts monitoring personnel. 
Vayyar: A wall-mounted fall detection device, Vayyar automatically senses a fall and prompts Alexa to contact monitoring personnel. The device doesn't have cameras, making it fully private, and works in dark or steamy conditions such as bathrooms. 
How to Set Up an Amazon Alexa for Yourself or a Loved One
Setting up Alexa and connecting devices correctly ensures your loved one can use all the functions. Follow these steps to set up Alexa in their home: 
Create an Amazon account for the Alexa user if they don't already have one.
Download the Alexa app to Apple or Android mobile devices, including phones and tablets.
Place the Echo device where your loved one can interact with it easily, ensuring it's at least 6 inches from walls and away from windows, televisions and potential hazards such as sinks.
Activate the Alexa-compatible device by logging into your loved one's Amazon account to complete activation.
Click on the "Add new device" option at the top and find their device from the list provided.
Confirm their time zone.
Hit "Continue" to complete the process.
Turn on the Location and Bluetooth settings.
Pair the Echo device with Alexa by choosing the correct Wi-Fi connection and typing in the password and Alexa syncs via Bluetooth.
The primary setup process should only take about 10 minutes. However, issues that require troubleshooting may prolong the process. One of the biggest problems is the Echo device not responding after setup completion. Troubleshoot this problem by ensuring the Echo is connected to Wi-Fi and has the latest version of the Alexa app. If so, try restarting the Echo, and if that doesn't work, reset it. Amazon provides specific troubleshooting tips for numerous Alexa devices on its website if these steps don't correct the problem.