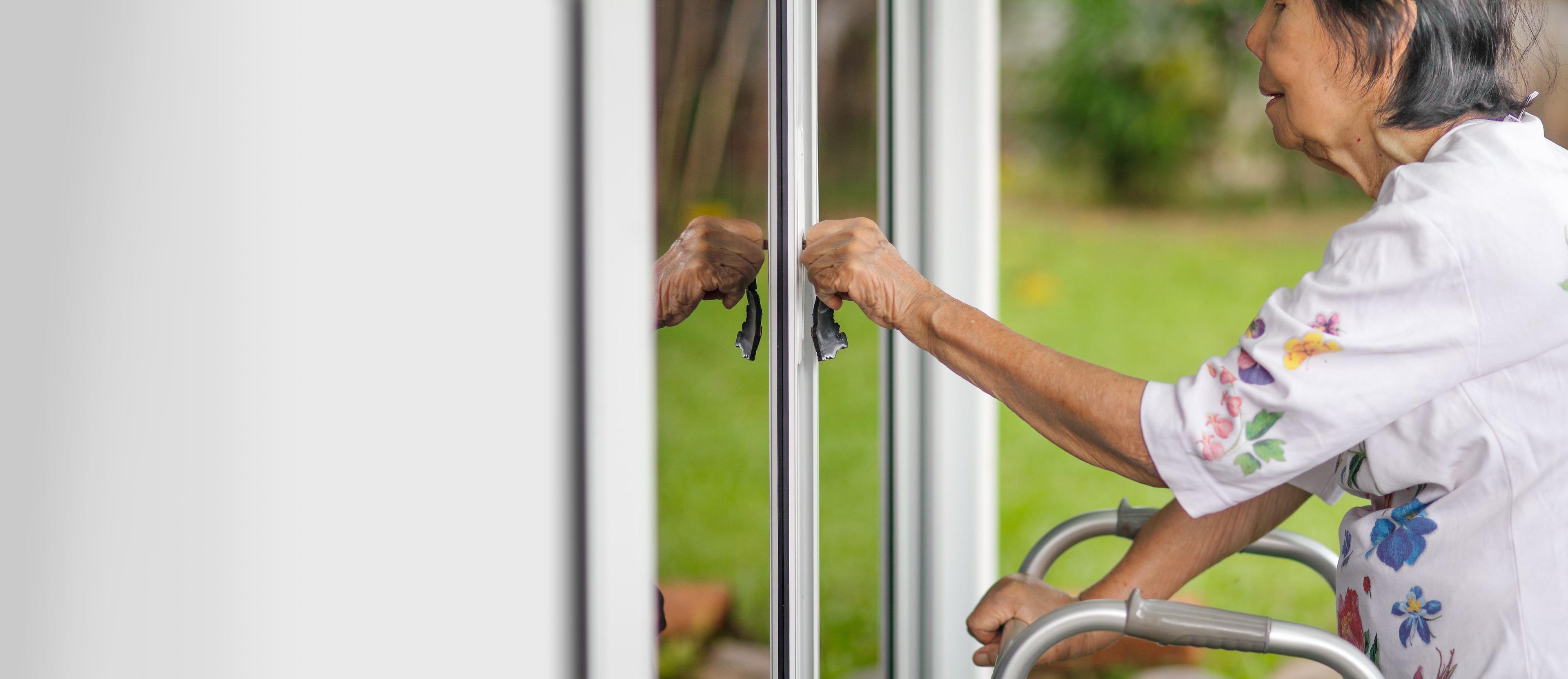 Home Security Guide For Seniors Who Live Alone
Reviewed by: Dr. Brindusa Vanta, MD
Living alone can be challenging for anyone, but it's particularly difficult for seniors. Feelings of loneliness and isolation affect many older adults, especially as friend circles start to shrink and a senior's mobility is affected. According to the Pew Research Center, 27% of Americans aged 60 and older were living alone in 2018. 
When your parent, grandparent or other older adult family member lives alone, it can lead to lots of worries. Safety is a major concern, since a senior may not be nimble enough to escape a fire or handle a break-in. Falls often lead to hospitalizations, and faster access to treatment can mean the difference between a short, straightforward recovery and a long stay in a rehab facility. No matter what your specific concern is, there are solutions that can help.
Home security systems offer a way to improve home safety while allowing your loved ones to age in place, in the home they're most comfortable in. For seniors, home security might combine external protections, such as an alarm system, with internal monitoring, such as a personal emergency response system. In this guide, we cover information about different types of security systems and typical costs for installation and upkeep. Additionally, we take a look at some of the most popular options in each category, along with their pros and cons.
What Are Home Security Systems and How Do They Work?
A home security system can consist of a wide variety of safety systems including carbon monoxide detectors, flood lights or any number of other preventative or warning devices. Home security systems should do exactly what the name implies — provide security for your home. Many systems focus on either the interior or exterior of a home, so you may need more than one type of device to create comprehensive coverage.
A home security system might be something as simple as a motion-activated flood light and Ring doorbell, or as complex as a monitored video feed that covers every area of the property. Some of the most common types of security devices include:
Alarm Systems: A basic alarm system uses sensors to monitor when someone enters or exits through an exterior door or window. When set to chime during the day, these can be an effective add-on to help with seniors who might be prone to wandering. An alarm system is often a deterrent against break-ins and your senior loved ones can get help more quickly in the event of an unwanted intrusion. These systems typically consist of door and window alarms, keypads and control panels.
Surveillance Cameras: Whether placed to monitor a home's interior or exterior, cameras can offer a lot in the way of security. Exterior cameras can catch unusual activity around a senior's home, while interior cameras can help protect against elder abuse and theft from caregivers. Add remote monitoring, and interior cameras can also let you do a visual check-in any time you can't get through to a loved one via the phone.
Automatic Lights: Interior automatic lights can be a great safety feature for seniors who struggle to see in lower-light settings. With interior automated lights, you can create a system that automatically turns on the lights in response to certain actions, or at a specific time. For example, you could have lights that automatically turn on when the front door or a bedroom door opens, ensuring your loved one is never wandering around in the dark.
Video Doorbells: A doorbell with a built-in video camera is a great way to provide a little extra security for your loved one. These camera-enabled systems often allow for remote conversations, allowing seniors to answer the door from anywhere in the house. This is especially helpful to seniors who struggle with hearing loss or who may not be fast on their feet. Motion detection, facial recognition and other features may be available.
Motion Sensors: Carefully placed sensors that send a notification whenever they detect motion can help create a secure perimeter around a senior's home. Some systems simply have a notification system, while others might automatically trigger lights, cameras or alarms depending on the placement of the motion detector and whether the system is armed.
Medical Alert Systems: Often, one of the most important safety features you can add for an elderly loved one is a medical alert system. While many use pendants that seniors wear for fall detection and to call for help, there are integrated options for at-home use that use sensors and cameras to detect falls instead.
Automatic Locks: Automatic locks are ideal for seniors who often forget to lock up when they leave their home, or for those who chronically forget their keys. These locks can be made to always engage when the door shuts, and some allow for keyless entry.
Why Should Seniors Get A Home Security System?
Adding a variety of protection systems can help reduce the risks of break-ins, unattended falls and other instances that could result in a long trip to a rehabilitation facility. Additionally, comprehensive home security systems can help seniors live independently for longer and bring peace of mind to caregivers.
Crime Prevention
When it comes to break-ins, criminals are often looking for low-risk, high-reward households. Unfortunately, this means that seniors are often a tempting target. However, an installed alarm system is often enough to deter burglars from breaking in. In case the worst does happen, seniors can expect a rapid police response. 
Weather and Home Hazard Detection
Smart alarm systems can often combine a variety of sensors and alarms to offer more comprehensive protection. For example, caregivers and monitoring companies can be notified of a fire in the home, carbon monoxide leaks, flooding and other weather-related hazards. In some cases, the alarm might even perform automated safety tasks such as shutting off the water main or gas line due to flooding.
Peace of Mind
Even in low-crime areas, home security adds a lot of peace of mind for seniors and their caregivers. In-home monitoring means that you won't need to worry about common accidents and that you'll get notified if something does happen.
Monitoring
Remote monitoring might seem a little off-putting from a privacy perspective until you realize the leading cause of fatal and non-fatal injuries for seniors is falling. Monitoring seniors at home means that you can respond more quickly if they do fall, and get medical care dispatched.
Aid to Aging in Place
Safety is the number one reason many seniors move into assisted living communities or nursing homes. At a certain point, it's just not safe for them to live at home any longer. Installing a smart home security system addresses the most pressing safety concerns, which allows seniors to live independently in their homes longer.
Legal Considerations When Placing a Home Security System
Before purchasing and installing a home security system, it's a good idea to read up on any local laws that may impact placement or position.
Privacy Laws: While no one has an expectation of privacy in public, security cameras that face into a neighbor's home can be a problem. Any recording that includes audio might also fall under any wiretapping restrictions in your local area.
Consent to Record: Since security systems are a form of recording device, you'll need to get consent from your loved one before installing any monitoring system.
Posting Public Notifications: It is within a person's rights to sue for being secretly recorded without their consent. If you're installing remote surveillance inside of a home, it is a good idea to post signs notifying visitors that they're being recorded.
Recording In Long-Term Care: When it comes to installing any recording device in a residential care setting, you'll also likely need permission from the facility and any roommates that share space with your family member. As a place that offers housing, residents have a right to privacy and may choose to exercise it.
Keep in mind that installing home security devices is legal in all 50 states, but pay attention to what's being shown on your cameras. You may need to be prepared to make adjustments to preserve a neighbor's privacy or to work with a care community.
Types of Home Security Systems
Home security systems range from very simple sensors on doors and windows to comprehensive smart home automation tools, and everything in between. Security systems often come with the option of DIY installation, or you can opt to have them professionally installed. Each option has its own benefits and drawbacks, so it is important to have a clear vision of the features you want when shopping for a home security system.
DIY Installation Versus Professionally Installed Systems
Pros
Cons
DIY Installation

Very affordable
Personalized system development
May work with existing smart home tech

Time-consuming installation
May require technical expertise

Professional Installation

Fast and reliable
Pre-packaged with lots of features
Performance warranties/guarantees

Expensive
Often requires a monitoring contract
Professionally Monitored Versus Self-Monitored Systems
With a professionally monitored system, there's a call center at the other end of the device that is always watching for an alarm. When something happens, dispatchers can contact the first responders needed to handle the situation, whether it is a home fire or an emergency medical situation. Self-monitored systems don't have the same 24-hour assistance. Instead, smart systems may notify a caregiver or the property owner when something happens and let them take the next steps, often after reviewing any video footage related to the incident.
Pros
Cons
Professionally Monitored

Someone is always watching for an alarm
Trained dispatchers coordinate entry with caregivers, health care professionals and police
Voice-activated helplines

Requires a monthly service fee
May cause privacy concerns

Self-Monitored

Privacy assured
More direct control over when to alert authorities
Free

Not round-the-clock
May lead to hours spent playing back recordings
Cellular/WiFi Versus Landline Home Security Systems
Home security systems need a way to connect with first responders. Landline systems are often the slower, but more reliable, option. Cellular and WiFi are wireless solutions that are often offered alongside landlines to provide a quicker connection. Either solution will do the job, but both have pros and cons.
Pros
Cons
Cellular/WiFi

More placement options
Works with most smart devices
Faster connection to help

Electricity dependent
More likely to suffer service interruptions

Landline

Operates even when the power is out
Keeps working when the internet is down
Very straightforward operation

Requires landline phone service
Often not compatible with newer, smart devices
The Best Professionally-Installed Home Security Systems
For top-of-the-line security, professional installation is usually the way to go. Vivint, ADT and Xfinity Home all make the list due to their extensive options and customizability. All pricing is for the base model and may not include upgrades specific for seniors. 
| | Vivint | ADT | Xfinity Home |
| --- | --- | --- | --- |
| Installation Cost | $49 to $149 | $150 | $60 to $99 |
| Monthly Monitoring Cost | $29.99 | $27.99 | $10 |
| Installation Provider | Vivint | SafeStreets | Xfinity |
Vivint
Vivint offers highly customizable security packages that include smart home options. Seniors can package smart lighting, thermostats and other devices when purchasing a system through Vivint. Their installation includes the option to finance all equipment or buy it outright. 
Pros
Cons
Vivint

Lots of customization available
Self monitoring optional
Financing available

One of the more expensive options
Long, 60-month contract required
ADT
ADT is a very popular home security choice due to its widespread availability and its extensive guarantees. When installing home security with ADT, you get a 6-month period where you can return the system for your money back.
Pros
Cons
ADT

Largest monitoring network
In-house financing
Short, 36-month contracts

Most expensive
Only offers standard packages
Xfinity Home
Xfinity Home is one of the most affordable professionally-installed options for home security and one that's compatible with a wide range of smart home features. One of the reasons it tops the list is the no-contract service options and affordable installation. 
Pros
Cons
Xfinity Home

Single bill for TV, internet service and home security monitoring
Many smart home integrations are available
Most affordable

Not available everywhere
Limited compatibility with common smart home devices
The Best DIY Security Systems
If you are looking to get a lot of value out of a security system without the added costs of professional installation, do-it-yourself security systems are great alternatives. They often deliver many of the same benefits you get with professional installation at a fraction of the cost. 
| | Ring Alarm Pro | SimpliSafe | Abode Essentials |
| --- | --- | --- | --- |
| Equipment Cost | $300+ | $250+ | $250+ |
| Monthly Monitoring Cost | $20 | $18 | $22.99 |
| Professional Monitoring Provider | Ring LLC | SafeStreets | Xfinity |
Ring Alarm Pro
Ring Alarm Pro checks a lot of boxes for those interested in an affordable, easy to use DIY home security solution. Much like the Ring Doorbell, it offers video recording along with various entry sensors, a key fob and a kit of 8 essential parts you need to set up a basic home security system.
Pros
Cons
Ring Alarm Pro

Affordable
Integrates with Alexa's Guard package
Comprehensive starter package

Privacy concerns
Required protection plan for many features
SimpliSafe
SimpliSafe offers some of the best starter kits on the market for very reasonable prices. All kits include a motion sensor and entry sensors along with the alarm. There are also a number of add-ons such as a panic button, siren, and a key fob.
Pros
Cons
SimpliSafe

Extremely customizable
Comes standard with motion detection
Glass break detector available

More complicated installation
A la carte pricing is on the high side
Abode Essentials
For seniors wanting a more comprehensive package for their security system, Abode Essentials offers a wide range of security bundles. The starter kits come with everything you need for basic protection, and each bundle includes add-ons tailored to different levels of security.
Pros
Cons
Abode Essentials

Massive catalog of add-ons
Compatible with Apple Home
Lots of home automation options

More expensive than other options
Monthly service plan required to access all the features
The Best Self-Monitored Security Systems
Self-monitored systems allow users to opt out of professional monitoring, instead having triggered alarms notify themselves and their caregivers rather than a monitoring company. Many companies offer self-monitored services as one of the plans to their existing products — here are some of the best examples:
| | Abode | SimpliSafe | Kangaroo |
| --- | --- | --- | --- |
| Equipment Cost | $250+ | $150+ | $180+ |
| Monthly Monitoring Cost | $22.99 | $10 | $1.99 |
| Cloud Storage Monthly Cost | $6 | $4.99 | $2+ |
Abode
For the Apple users out there, Abode is compatible, which makes it one of the few options for those who want integrated automation with Apple HomeKit devices. Abode offers great utility and lots of features, but some come with a monthly fee.
Pros
Cons
Abode

Lots of add-ons
Comprehensive hub with in-built sensors and camera
Smart home automation options

Most expensive choice on the list
App usage isn't free
SimpliSafe
This security system offers a great deal of customizability for those looking to incorporate a few add-ons on top of a basic plan. SimpliSafe's self-monitored system has less features than their professional monitoring system, but still provides a base level of protection for your home.
Pros
Cons
SimpliSafe

Numerous customizable plans
Unlimited video footage
Includes 1-year warranty

Doesn't include weather and extreme temperature monitoring
Self-monitoring plan doesn't include video verification
Kangaroo
Kangaroo's self-monitored security systems are some of the most affordable plans for protecting your home. All of its devices are standalone, letting you install security features and upgrade equipment at your own pace. 
Pros
Cons
Kangaroo

Most affordable option
Inexpensive doorbell camera
Motion and entry sensors in one

No smart home support
No cellular backup