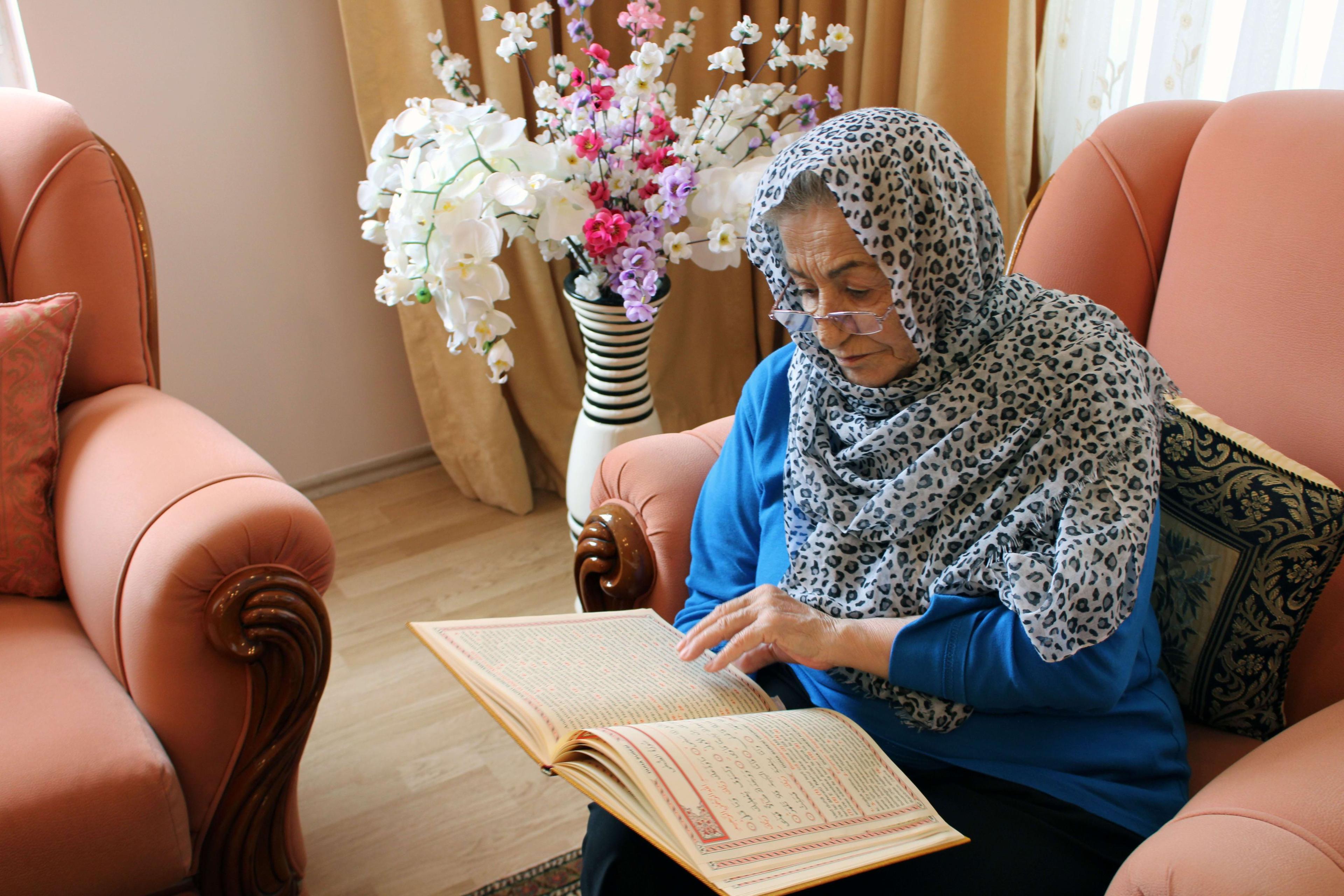 Finding Assisted Living for Muslim Seniors
Reveiwed By: Dr. Brindusa Vanta, MD
Having faith helps you overcome some of life's greatest obstacles, and the same applies to those who practice Islam. It can be challenging to find care outside the home for elderly Muslims, with limited access to culturally sensitive assisted living communities. It is uncommon to find establishments with halal-only menus, public prayer clocks or staff members who speak the same language.
Pew Research estimates that by 2050, Muslims will account for about 2.1% of the population and become the second largest religious group, behind Christianity. With more than 8 million Muslims calling the U.S. home, having available elder care is necessary. But, even when culturally sensitive assisted living options are available, many Muslim families are hesitant to use them.
In the Muslim faith and culture, families care for their elderly loved ones at home as long as possible. When home care becomes impossible or impractical, assisted living is still often avoided. However, it is possible to find assisted living communities with Muslim-centered programs and staff who understand the needs of Muslim seniors.
This guide helps caregivers and seniors better understand assisted living, care options and how to connect with a residential care community with a mindset Muslim seniors may appreciate.
The Islamic Perspective on Aging and Care for Seniors
Islam prioritizes the need to respect and care for the elderly, influencing many household decisions. All seniors are regarded as a blessing to society in Islam, and as such, the community at large plays a role in caring for them. Respecting a parent's or other elderly loved one's desire to remain at home is often the first challenge you'll face when considering any type of long-term residential care.
Instead, many Muslim communities work to create volunteer networks and services to assist seniors at home. If your parent is aging and you're struggling to provide an acceptable level of care, it's definitely a good idea to reach out for any community services that may help. However, for some seniors, the care they need outpaces what can be safely offered at home. When elderly family members stay at home alone for most of the day while you work, it can lead to dangerous situations. Let's take a look at what The Quran says about aging. 
What Does The Quran Say About Senior Care?
The Prophet Muhammad says, "One way of showing highness to Allah is to honor the elderly Muslim," in Ibn Majah hadith 3712. In another narration, he says, "He is not from us whoever does not have mercy on our young and reverence for our elders," in Al Tirmidhi's hadith 1920. 
Islam advises elderly should be treated with respect, mercy, preference, dignity, friendliness and concern, while overlooking their mistakes and helping them financially. This includes letting the elderly speak first, listening to their concerns and working with them to create family-friendly solutions.
Is it kinder to leave a senior at risk if they have a dangerous wandering habit and can't be left at home unattended? Or, is it kinder to allow a senior with cognitive decline to age in a safe place? It's important to honestly look at care needs versus the ability to provide at home. The Quran acknowledges diseases of the mind that may affect seniors, such as dementia. Living at home and taking care of your parents is the expected sequence of events. But not all illnesses allow it. 
When seniors need complex nursing care, hospital admission is typically short-term until the patient is stable enough to move to an assisted living community. Exploring options early and preparing for a time when assisted living care may be necessary is a way to be kind and honor an aging loved one. 
Barriers Muslim Seniors Face When Seeking Assisted Living
There are many reasons why a senior might resist the idea of residential care, but Muslims have specific barriers that can make residential care nearly impossible. No respect for dietary restrictions, lack of prayer support, poor cultural sensitivity, discrimination and public scrutiny can all put residential care out of reach, even for seniors who could benefit from an around-the-clock care team. 
Dietary Restrictions
Like many believers, Muslims have strict dietary taboos, including anything which uses pork or gelatin derived from pork. Halal means permitted foods, which includes all fruits, vegetables, seafood, and beef, poultry and lamb, as long as the animals were slaughtered in accordance with Islamic dietary laws. Grains which don't cause intoxication are also permissible. An assisted living community that serves halal meats is a good place to start when looking. 
Prayer Support
As a Muslim, you can pray virtually anywhere, but there are things the community can do to help support Muslim prayer. Providing a space with no images or idols that is kept ritualistically clean is a way to show support and welcome. Stocking prayer mats and posting a public prayer clock can all add some cultural sensitivity. While it's unlikely that an assisted living community will have these in place already, adding some of these supports may be possible in the right community. 
Cultural Sensitivity
You don't know what you don't know, which can cause problems when two culturally different individuals interact. In a care setting, it's important to find staff members who are open-minded and willing to listen to your concerns. Offering same-gender care whenever possible, respecting privacy by always knocking and waiting for an invitation to enter is essential when caring for a Muslim resident. You should also only reveal the minimum amount of skin needed to perform any care task. You'll want to find a community sensitive to these needs. 
Discrimination
As a minority group with a history of portrayal in the news media as radical or extremist, Muslims may struggle to find senior communities that offer support without discrimination. In fact, admissions discrimination may bar Muslim seniors from many communities before any resident-to-resident or staff-to-resident interactions take place. Since these communities can select patients, and discrimination is difficult to prove on an individual basis, being denied placement is all too common for some minorities. 
Public Scrutiny
Often, the idea of announcing a decision to institutionalize a loved one can be the biggest barrier. It's uncomfortable to consider the possibility that someone other than family or friends could better take care of an aging loved one. But it's important to remember that when a senior is living in an assisted living community, you can, and absolutely should, still provide as much care as possible and be very involved in their everyday lives. A move to an assisted living community is often about providing care that isn't feasible at home. 
Dealing With the Cultural Guilt of Moving a Loved One to Assisted Living
New mothers get lots of societal guilt for staying at home to care for their kids or for going back to work too soon. There's no "perfect" answer to providing care for another person. When you and your family decide the best place for an aging loved one is in an assisted living community, that decision can come with a lot of guilt. When you feel guilty about choosing a different care option from the traditional, here are a few tips to help. 
Be honest: If you can honestly say the care at home is better, then perhaps an assisted living community is not the right place for the senior in your life. But many assisted living communities offer a streamlined level of care that preserves senior independence without some of the challenges of home care. If your loved one is getting better care, let that be enough.
Be present: Frequent visits to support your aging loved one can help ease your mind. After all, the point of assisted living is to help when you can't. When you can assist, it's wonderful for both you and your loved one. 
Be open-minded: Remember, most assisted living communities have respite care options that let you and your loved one give things a trial run. While a week in an assisted living community won't give them much time to make friends, it will let them experience what day-to-day life looks like and help with their decision-making. If things don't work out, don't be afraid to change your mind. 
What To Look For In an Assisted Living Community for Muslim Seniors
While there are very few assisted living communities catering specifically to Muslims, there are options for assisted living care that can be pleasant and supportive for seniors from all backgrounds. When searching for an assisted living community, be sure to find one that offers:
Halal dining options: Halal food isn't just about avoiding pork and its byproducts. Having a menu that includes specific halal selections allows seniors from this group to feel welcomed and comfortable about the food options provided. 
General religious accommodations: When a community demonstrates inclusiveness by offering transportation to local worship centers that aren't Christian, it's often an indicator that the community is willing to support religious beliefs from a place of acceptance. 
Clear antidiscrimination policies: While acceptance into the community means you've avoided one type of discrimination, it doesn't protect your senior loved one from discrimination from staff or other residents. Ensuring there is an anti-discrimination policy, with actionable consequences for breaking the policy, can go a long way toward minimizing any negative interactions.
Good staff-to-resident ratio: You can never have too many staff per resident in an assisted living community. Try to find an option that has the lowest ratio to ensure the highest level of care for your loved one. 
Comprehensive health and wellness services: The biggest motivator for helping a parent move into an assisted living community is the improved level of care. Look for communities that provide fitness activities, cognitive care and rehabilitative therapies on-site.  
Full and changing activities calendar: Take a look at the activities calendar of anywhere you're planning to visit. Be sure to ask if any of the activities were canceled and how often the schedule changes. While routine is very important, particularly for seniors with dementia, a little excitement can also go a long way toward keeping seniors engaged. 
Resources for Muslim Seniors
Below, you can find resources that may help you extend your loved one's stay at home, from volunteers to help with transportation to specific health services. You'll also find programs that can offer referral services for when home is no longer a safe place for seniors to continue aging.
Resource
Contact
Description
Islamic Social Services Association, USA
(888) 415-9920
info@issausa.org
The ISSA USA is a nonprofit organization that provides nationwide assistance to Muslim communities that are working to create better social service and mental health networks. With the right community supports in place, Muslim seniors may be able to delay the need for assisted living or nursing home care.
Muslim Support Network
msnbayarea@gmail.com
The Muslim Support Network is an example of community care and what might be available in your local area.Through volunteer support, seniors gain access to transportation, special events and referral services, all offered in a culturally appropriate way.
Islamic Circle of North America
(855) 855-4262
icna.org/contact-us
Helping and charitable works are a foundational part of Islam, and the ICNA administers several programs that do just that. It offers health services and transitional housing programs, among others.
The Mosque Cares
(708) 679-1587
WDMministry@sbcglobal.net
The Mosque Cares runs the Coordinated Sick Committee which arranges for volunteers to visit members of the Muslim community who are ill, hospitalized or confined to a nursing home.
Muslim American Society
(800) MAS-2166
admin@muslimamericansociety.org
With over 50 chapters nationwide, the Muslim American Society is a grassroots charitable organization that works to advocate for Muslim Americans and create lasting political and societal change.