Need help? Have questions? Call 1-800-748-4024
Sunrise of Hillcrest
13001 Hillcrest Road, Dallas, TX 75240
Description of Sunrise of Hillcrest
___________________________________________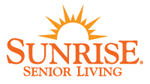 Sunrise of Hillcrest, conveniently located in Dallas off the Lyndon B. Johnson Freeway, provides outstanding care, innovative services and superlative assisted living accommodations. Seniors immediately feel at home in our caring and comfortable community, filled with many wonderful residents and compassionate, professional staff. We offer a resident-centered approach, where we empower seniors to live as they wish, and serve a range of care needs that include assisted living, Alzheimer's and short-term stays.
Sunrise of Hillcrest is part of Sunrise Senior Living. Sunrise's services are delivered by staff trained to encourage independence, preserve dignity, enable freedom of choice and protect the privacy of residents.
Featured Amenities
At Sunrise of Hillcrest, residents experience all the comforts of home where we provide accommodations to suit a range of needs. Our living spaces were designed to help Alzheimer's residents function as independently as possible, while feeling secure in a familiar environment.
Our secured outdoor courtyard is surrounded by beautifully manicured and well-maintained landscaping, gardens and grounds—the ideal spot to enjoy the sunshine or visit with family and friends.
Available Services
We offer an environment that fulfills the complete needs of our residents, including housekeeping and laundry services. Personal
assistance is available 24 hours a day to help residents with bathing, dressing, mobility, eating and medication. We provide care for short-term stays as well, when family members are away or need a break from caring for the senior in their life.
A unique selection of engaging and stimulating activities is available for all residents, and our multi-level care approach to Alzheimer's engages residents in activities that enhance their independence.
For the senior community that honors choice and independence, Sunrise of Hillcrest sets the standard for assisted living and Alzheimer's care.
Costs for Sunrise of Hillcrest
Assisted Living Starting Cost per Month: $4,090
VA Benefits Accepted
Long-Term Care Insurance Accepted
Amenities at Sunrise of Hillcrest
Property Info
Licensed Capacity: 115
Emergency Services: Less than 2 Miles
Shopping: Less than 1 Mile
Recreation: Less than 1 Mile
State License #: 102658
Semi-Private Units
Private Units
Air Conditioning/Climate Control
Emergency Call System
24-Hour Staffing
Beauty/Barber Shop
Walking Paths and Gardening Areas
Activities
Full-Time Activity Director
Parties and Socials
Outings and Trips
Creative Activities
Fitness Programs
Amenities
Outside Patio/Gardens
Private Dining Room
Snacks Available Throughout the Day
Restaurant-style Dining
Services
Medication Management
Help with Activities of Daily Living
Transportation to Appointments
Other Transportation Provided
Housekeeping
Ambulation & Escort Services
Reminiscence Memory Care Program
Back to Top
Reviews of Sunrise of Hillcrest
Write a review
Sunrise of Hillcrest

Review by

Aug 3, 2015

I Visited This Community

Overall
Staff
Activities
Food
Quality
Facility

Sunrise of Hillcrest is a beautiful facility. It's located just off Lyndon B. Johnson freeway. And it's in close proximity to Dallas Galleria. Indoors it's spacious with oversized,comfy couches and chairs. The dining room is large with an elegant vibe. Tables are average size with cushioned armchairs. The food options are great and are served three times a day. The residents rooms are nice with an open feel. The bathrooms are large with walk-in showers. The rooms and bathroom both lack plenty of storage space. The staff is always polite and professional in person and over the phone. The activities are planned so the residents are active and stimulated daily.

Sunrise of Hillcrest

Review by

Jun 12, 2015

I Visited This Community

Overall
Staff
Activities
Food
Quality
Facility

This is a fairly new, nicely furnished and decorated facility that has a very comforting, home-like feel to it. There is a large dog that lives and is cared for on the premises and he is a gentle giant, you won't see anyone wearing medical scrubs, and the food is excellent. The staff are friendly, approachable, and caring and there is a nursing supervisor on-site who is very involved with all aspects of resident care. There are regular 1 & 2 bedroom apartments as well as a locked dementia care unit on a separate floor that is accessed by a keypad. There are a number of activities including daily exercise group that staff will assist the residents to and a variety of levels of care available, including access to home health, hospice,visiting physician, etc.as needed. One comment that I have heard from a resident is to consider the location of your apartment as one side of the building faces a very busy intersection (635 & Hillcrest), so traffic noise can be a factor.

1 person found this helpful. Was this helpful?

Sunrise of Hillcrest

Review by

May 22, 2015

I Visited This Community

Overall
Staff
Activities
Quality
Facility

Located in one of the busiest areas of Dallas, Sunrise of Hillcrest does a great job with their Alzheimer's care. It is conveniently located only minutes from many restaurants, shopping, and grocery stores. The building is average on the exterior and the interior. When you go in you feel a very welcoming environment. Staff members have been very accommodating and friendly during my visits. The general staff works with the medical team to get the best help for each resident and they work to change medical care as needed. They oversee medication management ensuring your loved one takes the correct medication at the right time. Residents care plans are reviewed regularly and when necessary are adjusted to allow the residents' ever changing needs to be met. The pricing seems to be inline with the pricing in the area. I recommend a tour if you are needing a facility in north Dallas.

2 people found this helpful. Was this helpful?

Sunrise of Hillcrest

Review by

May 9, 2015

I Visited This Community

Overall
Staff
Activities
Food
Quality
Facility

What a great place to call home! The staff at this community are devoted and work hard to provide a good quality of life for all residents. The food is healthy, tasty and the residents enjoy the food options. This community has endless activities and a clean comfortable environment. If you are a dog lover than you will fall in love with the community dog greeting you when you walk through the door.

Sunrise of Hillcrest

Review by

Oct 30, 2013

I Visited This Community

Overall
Staff
Activities
Food
Quality
Facility

Have visited this community many times! Personal experience with family who utilised respite care regularly. Unique memory care area which has beautiful, wooded views and amenities. Will continue to recommend this facility.

1 person found this helpful. Was this helpful?
Resources Near Sunrise of Hillcrest
Nearby Senior Communities
Senior Living in Nearby Cities
Other Senior Living in Dallas