Brookdale Chestnut Lane Gresham
(3 reviews)
1219 NE 6th Street , Gresham, OR 97030
Reviews of Brookdale Chestnut Lane Gresham
Write a review
Review Averages
4.67 out of 5.0
Brookdale Chestnut Lane Gresham

Review by



Apr 8, 2013

I Am A Friend Or Relative Of A Current/Past Resident

Overall
Staff
Activities
Food
Quality
Facility

My brother has resided at Chestnut Lane, a facility for the deaf and deaf-blind, since May of 2011 after our father passed away. My brother, who is deaf and also developmentally disabled, has taken to his new home. He enjoys talking to the staff and the residents. For the first time in his life, he is able to communicate (via sign language) with everyone he comes into contact with on a daily basis! He loves the food there and while his favorite "activity" is watching TV, he will take part in some of the activities and parties at Chestnut Lane. And when he does, he always has a good time!

1 person found this helpful. Was this helpful?

Brookdale Chestnut Lane Gresham

Review by



Apr 6, 2013

I Am A Friend Or Relative Of A Current/Past Resident

My deaf friend lost his father 2 years ago, with whom he has always lived. My deaf friend is in his late 50's and has never lived independently, and that has always been sad. There were only 2 places in the whole country at the time of his father's death, who were geared toward deaf residents. Chestnut Lane is in our same state, so we can visit regularly! My deaf friend now has his own apartment for the first time ever. He is much more independent, and joins in the activities at Chestnut Lane. I have seen a whole different side of him now that he lives there. He likes people, enjoys visitors, loves having his family come see him, is happier, more confident, and much more positive in his attitude. It is the perfect place for him and a Godsend. He can communicate with everyone there in sign language. I recommend it to any deaf person looking for a place to retire, even if you have some health issues. They will monitor your health for you too.

1 person found this helpful. Was this helpful?

Brookdale Chestnut Lane Gresham

Review by



Apr 5, 2013

I Am A Friend Or Relative Of A Current/Past Resident

Overall
Staff
Activities
Food
Quality
Facility

My brother who is deaf has resided at Chestnut Lane in Gresham, Oregon (a suburb of Portland) for the past two years ever since our father died. My brother has blossomed into a happier and more independent person since coming to live at Chestnut Lane. For the first time in his life he is living on his own in his own apartment. He now enjoys socializing (as he never has before) with the residents and the staff who all know sign language! He enjoys the food, the community and the weekly shopping trips to local stores. For the first time in his life he is using the community videophone to keep in touch with both deaf friends and hearing family members. Whenever I visit him, we take in a current captioned movie (using the latest technology) at any of the many local theaters. I enjoy sharing meals in the dining room and interacting with the other residents I've come to know. I am always welcome to participate in the activities offered to the residents. I see how the caring staff looks after him, often going above and beyond my expectations! I am so grateful that Chestnut Lane has been available for the past ten years for deaf and deaf-blind people to come to live. I don't know what we'd do without it! Thank you, Chestnut Lane! John

1 person found this helpful. Was this helpful?

Provider Response

Apr 8, 2013

Hi John, Thank you so much for sharing your experience! We're honored to have had the opportunity to take part in your brother's life, as he has "blossomed into a happier and more independent person since coming to live at Chestnut Lane." Please feel free to let us know if you have any questions or if there is anything we can do provide assistance! Chestnut Lane, An Emeritus Community We welcome your feedback! http://www.emeritus.com/ethics or via email [email protected] or via phone (888) 529-5827
Description of Brookdale Chestnut Lane Gresham
___________________________________________

Brookdale Chestnut Lane Gresham (formerly known as Chestnut Lane) is a community specializing in active retirement living and assisted living for the deaf. Our staff are committed to helping maintain each resident's independence while giving them the kind of compassionate, understanding, respectful care that they would give their own loved ones.
Brookdale Chestnut Lane Gresham is proud to be a part of Brookdale. Our communities provide active retirement living for thousands of residents, serving seniors and their families since 1978.
Featured Amenities
Brookdale Chestnut Lane Gresham is designed to help fulfill the needs of its residents, with spacious, open areas that allow residents to sign across the room and wide hallways with alcoves for private conversations. The video phone room
allows residents with visibility to keep in touch with their loved ones.
Residents can surf the web in the computer room, enjoy a good book in the library, catch a film in the TV/Theatre room or lounge by the fireplace in the lobby. Exercise classes, arts and crafts, Bingo games, gardening, educational opportunities, movies and scheduled outings keep everyone active and having fun. Church services are held on-site for those who worship.
Available Services
At Brookdale Chestnut Lane Gresham, many of our staff members are also deaf, making communication easy. One of only a few communities catering to the deaf and deaf/blind in the country,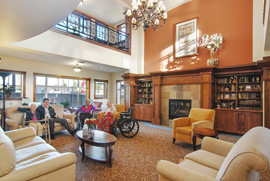 we are also perfectly situated near beautiful, bustling Portland. The MAX light rail system, which traverses the greater Portland area, is within walking distance of the community.
With a 24-hour emergency response call system, Brookdale Chestnut Lane Gresham residents and their families can have peace of mind. We work with local hospitals and doctors who understand the needs of their deaf residents. Scheduled transportation is available for activities, shopping and medical appointments.
At Brookdale Chestnut Lane Gresham, our family is committed to yours.
Costs for Brookdale Chestnut Lane Gresham
Amenities at Brookdale Chestnut Lane Gresham
Property Info
Emergency Services: Less than 2 Miles
Shopping: Less than 1 Mile
Recreation: Less than 1 Mile
Minimum Age: None
Resident Capacity: 75
State License #: 4678
Air Conditioning/Climate Control
Emergency Call System
24-Hour Staffing
Beauty/Barber Shop
Library
TV Room
Fireside Lounge
Activities
Full-Time Activity Director
Educational Opportunities
Outings and Trips
Arts & Crafts, Gardening and Bingo
Exercise Classes
Amenities
Outside Patio/Gardens
Pet Policy: Small pets allowed
Private Dining Room
Restaurant-style Dining
Services
Medication Management
Diabetes Care
Help with Activities of Daily Living
Transportation to Appointments
Other Transportation Provided
Housekeeping
Ambulation and Escort Services
Back to Top
Resources Near Brookdale Chestnut Lane Gresham
Nearby Senior Communities
Senior Living in Nearby Cities
Other Senior Living in Gresham