The Woodlands of Columbus
(3 reviews)
5380 East Broad Street , Columbus, OH 43213
Reviews of The Woodlands of Columbus
Write a review
Review Averages
3.33 out of 5.0
The Woodlands of Columbus

Review by



Sep 20, 2017

I Visited This Facility

I liked The Woodlands, it's been there for a while, and it had a lot of developed landscaping and trees. It was back off the road, away from the freeway, and it's close to shopping. The building is on a single floor, it was clean, and it had a very homey atmosphere. The layout in going from the rooms to the cafeteria were very nice, and easy to get to. The layout of the rooms were nice, the dining area looked nice, and it was centrally located. They had a small area for exercising, a separate dining room if you have visitors, a nice centralized sitting area, and a library. The staff was very friendly, answered my questions very well, and offered up information about the area. They provide transportation to locations, or doctor's appointments.

The Woodlands of Columbus

Review by



Aug 7, 2015

I Visited This Community

Overall
Staff
Activities
Food
Quality
Facility

The Woodlands is a memory care and assisted living community that offers that country mature feel. The community is cozy with a variety of activities and programs that promote health and wellness. The activites are appropriate and one of the benefits is the staffs ability to focus on the residents during activities due to size. The residents are excited about meals and the menu has options with accomodations for diets or personal taste. The staff have several programs to stimulate the memory care residents and assist the staff with being aware of their individual needs. The building is clean and the staff are professional and open to ideas and helping the residents.

The Woodlands of Columbus

Review by



Jul 31, 2015

I Visited This Community

Overall
Staff
Activities
Food
Quality
Facility

The Woodlands of Columbus is an older community that is located by a residential neighborhood. The staff was friendly but the residents were not very engaged in activities. This community is an option if a smaller, cost effective community is needed. The community was clean, the food was decent, it is certainly a stable community but family involvement would be required to make sure things remained stable for your loved one that lived in the community.

2 people found this helpful. Was this helpful?
Description of The Woodlands of Columbus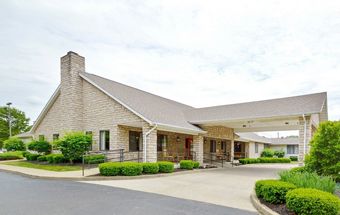 _____________________________________________

Discover a vibrant yet relaxed lifestyle at The Woodlands of Columbus, where residents can explore a full calendar of activities while enjoying modern-day amenities and convenient services. Our Columbus, Ohio community offers assisted living and memory care services. From our thoughtfully designed studio and one-bedroom floor plans to our myriad of recreational and social opportunities, residents may just find that we have thought of everything – including housing an onsite aviary. Our residents take comfort in safety features such as emergency response systems and assist hand rails in bathrooms and appreciate wall-to-wall carpet and two-inch mini-blinds for coziness and privacy.
Our caring and professional staff provides a helping hand for residents who may appreciate some assistance with the activities of daily living. You can be assured that The Woodlands provides the quality care that will allow residents to remain as self-reliant as possible while living in a supportive environment. Residents have the freedom to participate in numerous community activities or venture off to downtown Columbus for its many dining, shopping and recreation opportunities.
Featured Amenities
The Woodlands of Columbus features studio and one-bedroom floor plans with all utilities paid, including basic cable but excluding telephone service. Our Columbus, Ohio assisted living and memory care community focuses on safety with emergency response systems, assist rails in bathrooms and emergency call buttons in every apartment. Residents enjoy the comforts of home with wall-to-wall carpet in living and bedroom areas with the privacy they deserve from two-inch mini-blinds and draperies on all windows. Apartments have cable TV access, spacious bathrooms with walk-in showers and individual climate controls. All areas are wheelchair accessible with wide entryways.
Available Services
Our residents have access to a choice of home health agencies that provide regular personal care assessments. Staff members are available 24 hours a day to offer special nutritional counseling, incontinence care, escort and transfer assistance and medication administration depending on the level of care needed. We also have an onsite therapy clinic. Hospice services, along with additional housekeeping and laundry help, are available as desired.
Costs for The Woodlands of Columbus
Assisted Living Starting Cost per Month: $2,910
Amenities at The Woodlands of Columbus
Property Info
Managed By: Capital Senior Living
State License #: #2313R
Studio Apartments
1-Bedroom Units
Air Conditioning/Climate Control
Emergency Call System
24-Hour Staffing
Beauty/Barber Shop
Lounge Area with Big-Screen TV
Activity Center with Game Area
Activities
Exercise Classes
Social, Educational and Recreational Programs and Activities
On-Site Chapel
Amenities
Outside Patio/Gardens
Cable/Satellite TV
Three Restaurant-Style Meals Served Daily
Large, Elegant Dining Room with Private Dining Room Available
Services
Transportation to Appointments
Housekeeping
Medication Administration
Early Stage or Mild Dementia Care
Access to a Choice of Home Health Agencies
On-Site Therapy Services
Bathing, Dressing and Grooming Assistance
Back to Top
Resources Near The Woodlands of Columbus
Nearby Senior Communities
Senior Living in Nearby Cities
Other Senior Living in Columbus