Need help? Have questions? Call 1-800-748-4024
Crescent Heights
240 Branchview Dr Ne, Concord, NC 28025
Description of Crescent Heights
_____________________________________________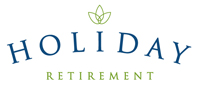 You'll be delighted with the rich history of downtown Concord, a charming little area just to the northeast of Charlotte. With mild winters and warm summers, you'll be free to enjoy all the sights and excitement throughout the year. Explore 200 years of Concord's history with shows at The Old Courthouse Theater and visits to Reed Gold Mine State Historic Site and other museums. And with Charlotte just minutes away, you'll have easy access to excellent shopping and superb healthcare. Our live-in managers are friendly, caring and eager to meet you. You'll wish you'd come to live with us sooner.
Crescent Heights is proud to be a Holiday Retirement community. Since 1971, Holiday Retirement has been creating superb communities where seniors feel a sense of home and belonging.
Featured Amenities
The apartment suites at Crescent Heights come in a variety of layouts and feature private bathrooms, patios or balconies, and handy kitchenettes. Our all-inclusive program includes cable TV, utilities, laundry and parking. We also have a fitness room, media room and billiards lounge.
Our dining program offers three chef-prepared meals a day carefully planned to meet individual dietary needs and made from scratch. For special occasions, residents can host meals in our private dining room.
Available Services
While staying at our community, each resident has the opportunity to participate in our exclusive travel program. Through this program, seniors can visit nearly any of our over 300
retirement communities for up to seven nights at no additional charge. During the visit, residents will enjoy all the same service and amenities they enjoy at home while having the chance to meet new friends and experience new places.
We understand that each individual is unique and that needs may change over time. Holiday does not provide any health care services. However, residents are welcome to receive services from any outside home health care provider of their choice to help them continue enjoying life at our community.
Crescent Heights is a unique and exciting community for active and independent seniors.
Costs for Crescent Heights
Independent Living Starting Cost per Month: $2,249
Amenities at Crescent Heights
Property Info
Emergency Services: Less than 2 Miles
Shopping: Less than 1 Mile
Recreation: Less than 1 Mile
Minimum Age: 55
Private Units
Studio Apartments
1-Bedroom Units
2-Bedroom Units
Air Conditioning/Climate Control
Kitchenette
Emergency Call System
24-Hour Staffing
Parking Provided
Fitness Room/Gym
Chapel Services
Billiards Lounge
Game Room
TV & Media Room
Laundry Facilities
Activities
Full-Time Activity Director
Computer Classes
Beanbag Baseball
Bible Study
Yoga, Walking & Other Exercise
Amenities
Outside Patio/Gardens
Cable/Satellite TV
Pet Policy: Pets allowed
Special Meals: Diabetic,Low-salt,Vegetarian
Private Dining Room Available
Restaurant-style Dining
Services
Other Transportation Provided
Housekeeping
Linen Service
Travel Program
Live-In Managers
Back to Top
Reviews of Crescent Heights
Write a review
Crescent Heights

Review by

Mar 10, 2015

Current/Past Resident

My husband & I have been living here for three years and are very thankful to be here. In the last three years we have had three management teams. Our first experience with team #1 was just not the right kind of people to be in this kind of business. No complaints with the server/house keeping staff. Some of the chefs we have had were not so good, but we could always make a choice of what we wanted to eat. NOW the management team is absolutely wonderful! AND the food is great! As I said, my husband and I are very thankful to be living here. I would recommend Crescent Heights to anyone wanting to live in a community setting.

5 people found this helpful. Was this helpful?

Crescent Heights

Review by

Dec 2, 2014

Family Or Friend Of A Current/Past Resident

The whole experience has been an excellent fit for my father. The activities and amenities have been great to help him maintain his independence.

3 people found this helpful. Was this helpful?

Crescent Heights

Review by

Nov 18, 2014

Family Or Friend Of A Current/Past Resident

My Mother in law has lived at Crescent Heights for 2 years. Have had about 5 or more management teams since. I had an emergency with a toilet overflowing in my Mother in laws room and when I tried to get Donna's attention, she just put her hand up to tell me she wasn't going to see what I needed till she was done chatting in the hall...Rude. She spent more time outside smoking and unkind to a many residents and their families. Food started off very good and Jose and Kathy were the most caring co-managers. Otherwise haven't had any management that takes the time to know the residents. Activities have gone down the tubes since Peggy Baxter left. I realize it's independent living, but you would think some encouragement and making residents feel engaged would take place. Light housekeeping is a stretch. A quick vacuum and that's only if they think it's needed and the only time you can tell the bathroom is cleaned well is when Maria does it, because she cleans it...not a quick wipe down. People move to senior living for a "community"...Crescent Heights is not a community..managers and co-managers never get along and staff always changing. when you call corporate about a situation, they say go talk to the managers, which hide as much as possible. Even corporate does not care about your complaints which sends a very big message that this is not a place where you would feel warm and fuzzy about placing your family.

7 people found this helpful. Was this helpful?

Crescent Heights

Review by

Oct 17, 2014

Current/Past Resident

Stay as far away as you can. The facility is very poorly managed and the food is awful. The office staff does not handle issues and is rude to the residents. The activities are not managed well, from arguments at bingo games to not having a variety of activities to choose from. Even with suggestions, food is salty, fried and unhealthy especially for a senior citizen diet. It lacks variety and most items are not edible due to being over cooked or undercooked. The common areas of the facility are not clean and most of the washers and driers are broken and do not get fixed. Maintenance staff even turned off air conditioners in the hallways rendering walking for exercise inside impossible due to the uncomfortable temperature.

5 people found this helpful. Was this helpful?
Resources Near Crescent Heights
Nearby Senior Communities
Senior Living in Nearby Cities
Other Senior Living in Concord