Lake Ridge Village
(13 reviews)
353 W Ardice Ave , Eustis, FL 32726
Reviews of Lake Ridge Village
Write a review
Review Averages
3.46 out of 5.0
Lake Ridge Village

Review by



Aug 25, 2017

I Visited This Facility

Overall
Staff
Food
Facility

Lake Ridge Village was all on one floor, and it was beautiful. It had a beautiful dining room. It had a washer and dryer in each corner that you did not have to use quarters for because it was free! The staff would come and do your bed for you for free, they clean your room here or there, but it was like $2,000 a month. I can't afford it. We were offered lunch and we sat with somebody who lives there to give some feedback on the place. She was very helpful and very nice. After lunch, the manager came and showed us an empty apartment and it was lovely, beautiful, and just gorgeous. Everybody was nice. The people during lunch serve you, you didn't have to get up and go get it. All of that is included in your monthly dues. Every resident that lives there has a gray call button in case they fall or in case something happens to them. I asked about walk-in showers and they said they do have them, but it's not what you think. The back part of the tub is cut out on the side, so that you can step in there, and they don't have doors. I didn't care for that part of it at all. The food was tremendous. If you're sick, somebody will bring your meal up to you, but if it's more than three days and you cannot stay there, you have to go to a hospital. They won't let you be sick and stay there.

Lake Ridge Village

Review by



Aug 24, 2017

I Visited This Facility

Overall
Staff
Food
Facility

My friend and I went to Lake Ridge, and I was not impressed. They offered afternoon entertainment, and lunch or dinner. I was unhappy because the sales staff member would not let up until he got a commitment. The dining area was OK. It was not one of the better facilities that I saw, but the food was good. It wasn't one that I would recommend.

Lake Ridge Village

Review by



Aug 23, 2017

I Visited This Facility

The atmosphere at Lake Ridge Village was very nice, and the people were very accommodating and very eager to show me what they had to offer. They had a hairdresser, full-service kitchen, and shuttle service. The buildings were a little older, but everything was well kept and clean. I didn't have any complaints with the presentation of the food.

Lake Ridge Village

Review by



Aug 23, 2017

I Visited This Facility

Overall
Staff
Activities
Food
Facility

Lake Ridge was very nice. It's quiet, and that's what we wanted. I liked how people gathered at lunch and dinner to meet their friends. The apartments were pretty and just the right size. The menu was nice, and if you do not like the menu, you can also order regular food. They have bean bag baseball and coloring for adults. I liked it. We will move in by August.

Lake Ridge Village

Review by



Jul 17, 2017

I Visited This Facility

Lake Ridge Village was old. It was not even in a good location. The apartment they showed me was bare, old, and worn out. We had an appointment to see the place and have lunch, but when we arrived, they didn't even know who we were. The only staff member I met was unprepared for us to be there. I couldn't even find a handicapped parking space close to the building. I was very disappointed.

1 person found this helpful. Was this helpful?

Lake Ridge Village

Review by



Jun 17, 2016

I Visited This Community

Lake Ridge Village was the only place that we visited because it fit my friend's financial plan. We were very pleased with it. The guy in charge was very nice. He took a lot of time with us, explained everything, and took us on a tour. He was very informative, and the place was very clean and very nice. The room we saw was a one-bedroom and very well laid out and had all the necessary things.

Lake Ridge Village

Review by



Jun 13, 2016

I Visited This Community

When you enter the building of Lake Ridge Village, it's a low ceiling, the paint was dull, the lighting was very low, and the furniture was outdated. The residents were very quiet and subdued. It was more like a nursing home. Their price is excellent at $2,100 a month, which includes everything. The people were friendly; the attendants and the lady who showed us around were very nice and very professional. It's just a very outdated building. The apartment was nice and clean, and they were willing to do a lot of upgrades for me, like allow me to put my washer and dryer in there and make special hook ups for me. However, they had a patio attached to it that I couldn't get to in a wheelchair because it steps down. The apartment was beautiful and new, but the hallways and the floors were a little creaky like in an older home. That's why I would suggest that they repaint it with a brighter color. Their dining area was very open and spacious. Everything was included in the price, which will be excellent: the food, the utilities, and everything. And it was right across the street from a shopping mall, so it was in a good location. It had an aura of sadness, and I want it to be bright when I come home.

1 person found this helpful. Was this helpful?

Lake Ridge Village

Review by



May 12, 2016

I Visited This Community

The only one we went to was Lake Ridge Village. Everybody there was lovely. We were treated very nicely. The food was okay. It was tasty enough but being the daughter and sister of a butcher, I found the meat poor quality. Overall experience, I found the place kind of depressing. I don't know if it's the ambience, the color or there's not enough light. It just turned me off. The director was trying very hard to close the sale too. But everybody was very nice there. I just thought it was very depressing.

1 person found this helpful. Was this helpful?

Lake Ridge Village

Review by



May 12, 2016

I Visited This Community

I only saw a one-bedroom at Lake Ridge Village; they didn't have any studio available. Some studios don't have balconies, but some do. The lady who took me around was very business-like. She didn't have a very charming personality. It was very cold. The community was OK, but it wasn't for me. It's an OK place, but I think it's overpriced. The item that I really wanted for the lunch was not available, so I had to take whatever else was on the menu. Food was OK, but it wasn't the greatest. In other words, they don't provide an extensive amount of options as far as the meals are concerned.

Lake Ridge Village

Review by



May 11, 2016

I Visited This Community

The tour at Lake Ridge Village was very nice, but it was not at all what I was looking for since it was basically a motel for senior citizens. The room wasn't too small. You walk out into a hallway and either go into the dining area or go the other way into the parking lot. The sunroom was a very small area. If I am less ambulatory than I am, then it might work out for me. I need a place with more activity. There were people playing checkers and cards, and crocheting.

Lake Ridge Village

Review by



Apr 4, 2016

I Visited This Community

Lake Ridge was very nice. But maybe because it's brand new, it just felt a bit cold. The people working there seemed very nice, but it didn't have a homey quality to it. They had a barber shop and they were just going to start a little collection of books for a library. We didn't see much activity at that time and I think they only had four residents. It used to be a hotel, so they just remodeled it. Part of it might have been that it was really cold in there too. The pricing was probably cheaper but I think it's a very good value actually because they did have a doctor that came all the time. Doctors had actually bought this building and started it. I think it will really be nice. It's just a little farther away from where mom wanted to be.

Lake Ridge Village

Review by



Mar 16, 2016

I Visited This Community

Lake Ridge was an older facility in a not-so-good neighborhood. However, the staff and everything else was fine.

Lake Ridge Village

Review by



Sep 22, 2014

I Visited This Community

Overall
Staff
Activities
Food
Quality
Facility

We have visited this facility twice and enjoyed seeing such a beautifully landscaped location, a professional and caring staff who answered all our questions, and even enjoyed a delicious lunch. New friendships were formed and the location is so close to all and everything one would need outside the facility. Shopping, restaurants, doctors, churches, etc. are all reasonably close and convenient.

5 people found this helpful. Was this helpful?
Description of Lake Ridge Village
_________________________________________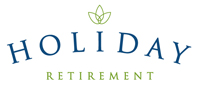 Lake Ridge Village is located in the very heart of Lake County, "Florida's Natural Playground," and is just moments away from the shopping and dining facilities at the Eustis Village Shopping Center and within walking distance of the world-class healthcare and conveniences of the local community. Cherish the lush surroundings of the numerous local golf courses, pay a visit to the Lake County Historical Museum or enjoy some of the best bass fishing opportunities in Florida.
The Lake Ridge Village is a part of Holiday Retirement, a company in the business of providing comfort, value and security to seniors. Since 1971, Holiday has been creating cheerful communities for individuals who want to enjoy an independent and enriching retirement.
Featured Amenities
Enjoy exquisite accommodations in private suites designed and furnished to the highest of standards. We invite you
to bring along your cat or dog to share in the enjoyment of our community.
You will take pleasure in the delicious, chef-prepared cuisine served daily in our restaurant-style dining room. Between meals, enjoy a fulfilled and active lifestyle with our carefully developed calendar of activities and events. You can look forward to regular socializing opportunities as well as being able to take an active role in the local community with our award-winning senior volunteer program.
Available Services
One monthly fee covers our complete range of services including weekly linen changing and overall housekeeping service, easily accessible laundry facilities, and free cable and utilities. We understand that each individual is unique and that needs may change over time.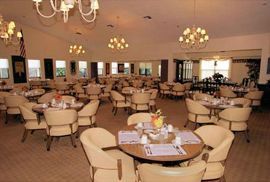 Holiday does not provide any health care services. However, residents are welcome to receive services from any outside home health care provider of their choice to help them continue enjoying life at our community.
If you would like to take the opportunity to travel in your retirement, you will benefit from our exclusive travel program that permits you to visit many of our other Holiday Retirement communities across North America. Enjoy life at our welcoming communities, safe in the knowledge that uninterrupted assistance is available should any possible need present itself.
Lake Ridge Village offers independent seniors the opportunity to lead a fulfilling life in a premier retirement community.
Costs for Lake Ridge Village
Independent Living Starting Cost per Month: $1,474
Amenities at Lake Ridge Village
Property Info
Emergency Services: Less than 2 Miles
Shopping: Less than 1 Mile
Recreation: Less than 1 Mile
Minimum Age: 55
Private Units
Studio Apartments
1-Bedroom Units
2-Bedroom Units
Kitchenette
Full Kitchen
Emergency Call System
24-Hour Staffing
Parking Provided
Fitness Room/Gym
Beauty/Barber Shop
Billiards Lounge and Game Room
TV and Media Room with Nintendo Wii®
Activities
Full-Time Activity Director
Poker, Yahtzee and Group Games
Local Outings and Excursions
Exercise and Fitness Programs
Arts and Crafts
Amenities
Outside Patio/Gardens
Cable/Satellite TV
Pet Policy: Pets allowed
Private Dining Room
Restaurant-style Dining
Services
Transportation to Appointments
Other Transportation Provided
Housekeeping
Holiday Travel Program
Seniors Serving Seniors Program
Linen Service
Back to Top
Resources Near Lake Ridge Village
Nearby Senior Communities
Senior Living in Nearby Cities
Other Senior Living in Eustis