Desoto Beach Club
(7 reviews)
5201 Desoto Rd, Sarasota, FL 34235
Reviews of Desoto Beach Club
Write a review
Review Averages
3.86 out of 5.0
Desoto Beach Club

Review by



Jul 18, 2017

I Am A Friend Or Relative Of A Current/Past Resident

Desoto Beach Club is very nice, and my mom has met very nice people. It's very clean, and the management has done a really good job at connecting. They have an on-site physical therapist, a nurse on call during the day, a nice variety of activities, and they have just done a really nice job with helping my mom during her stay. They have a nice cafeteria, and the food is OK but not homemade. Otherwise, mom's very happy there.

Desoto Beach Club

Review by



Jul 17, 2017

I Am/Was A Resident Of This Facility

Overall
Staff
Activities
Food
Facility

We stayed for 6 months at Desoto Beach club. My wife, slipped, fell, and fractured her hip there. The apartments were very basic, like off campus apartments back in my college days. We were not able to get housekeeping services, which was once a week. Their food leaves a lot to be desired.

Desoto Beach Club

Review by



Jul 14, 2016

I Visited This Community

We saw Desoto Beach Club when we visited the place. We initially liked it, but we talked to some people who moved out of the place and to a resident in the elevator who said that the management had changed and the quality had gone down. The manager who gave us the tour said to us to disregard the carpets because they are going to be replaced soon, but the residents told us they were being told that for two years now. The carpet did look pretty bad.

3 people found this helpful. Was this helpful?

Desoto Beach Club

Review by



Jun 13, 2016

I Visited This Community

We went to Desoto Beach Club, which was really nice, and we really liked it. It was more open and user-friendly to me because it was all open for dinner. It's independent, but I think they have assisted if you need it. There's a big dining room with people sitting around smiling and waving to you. The lady showed us three full rooms which were very nice, and we stayed for lunch, then I went outside and looked at the pool while my mother sat with some ladies. It was just a really friendly atmosphere. If she had a choice, that's the one she would go to. The food was very good. The day we were there, they were having a St. Patrick's Day party, so they had two men come in and play instruments and sing, and people came in and sat with them and took requests. They also had a room where they play cards.

1 person found this helpful. Was this helpful?

Desoto Beach Club

Review by



Jun 13, 2016

I Visited This Community

Desoto Beach Club impressed me. I thought, "Boy, my dad would like to live here." We went inside, but we didn't see any of the rooms. The amenities and the dining area were nice. You walk in the door, and they have a piano player and chairs all lined up, and the residents were listening to Dixieland music. It was very nice. The community was very nicely put together and had nice grounds with a lake, a pond, and benches to sit on. The people seemed nice.

2 people found this helpful. Was this helpful?

Desoto Beach Club

Review by



May 12, 2016

I Visited This Community

My visit at Desoto Beach Club was pleasant. The woman took me around everywhere, showed me a lot of the rooms, the dining room, and some of the facilities. It was very nice. The atmosphere was pleasant. The living quarters were very nice, and the staff was very pleasant and very helpful.

1 person found this helpful. Was this helpful?

Desoto Beach Club

Review by



Mar 22, 2016

I Visited This Community

Desoto Beach Club was very nice and well set-up for the elderly. They had a lot of activities. It would have been a great place for my mom. The room was a cute, well set-up, small one-bedroom apartment. The dining room was restaurant-style. The staff was wonderful, helpful, informative, and compassionate.

1 person found this helpful. Was this helpful?
Description of Desoto Beach Club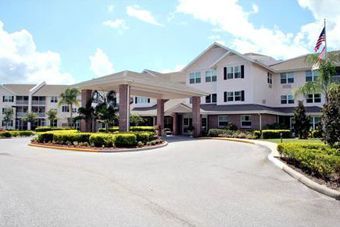 __________________________________________

Desoto Beach Club offers you a quiet, beautiful home nestled within Sarasota. Residents enjoy the convenience of being close to all the things that make life rich, like shopping, great dining, golfing and all the beauty of the ocean. Take time to enjoy the world-renowned Siesta Key Beach, St. Armands Circle and Anna Marie Island. Our warm and caring staff is devoted to making you feel at home with us, and you'll be happy you came to live with us.
Desoto Beach Club is a part of Holiday Retirement, a company in the business of providing comfort, value and security to seniors. Since 1971, Holiday has been creating cheerful communities for individuals who want to enjoy an independent and enriching retirement.
Featured Amenities
There are plenty of things to keep you active and occupied at our popular retirement community. Enjoy your own private suite, expertly designed and furnished to high
standards to ensure your utmost comfort at all times. Feel free to bring along your cat or dog to enrich your experience and we will welcome them into our community with open arms.
Make new friends by taking part in our thoughtfully prepared schedule of events and activities designed to promote holistic wellness. Between enjoying delicious, chef-prepared meals served three times daily, you'll find everything you need to keep your mind and body active. Watch your favorite shows, play a game, attend an exercise class or Bible study; your choices are endless.
Available Services
Desota Beach Club offers a comprehensive list of services that will cater for your every need. Wave farewell to daily chores and take advantage of housekeeping and linen
services, laundry facilities, cable television and 24-hour on-call service, all included in your monthly rent. Hop on our complementary shuttle service and get involved in rewarding opportunities to volunteer in the local community.
We understand that each individual is unique and that needs may change over time. Holiday does not provide any health care services. However, residents are welcome to receive services from any outside home health care provider of their choice to help them continue enjoying life at our community.
Desota Beach Club offers seniors a wonderful opportunity to retire in a premier community with service that's as warm as the weather.
Costs for Desoto Beach Club
Independent Living Starting Cost per Month: $2,099
Amenities at Desoto Beach Club
Property Info
Emergency Services: Less than 3 Miles
Shopping: Less than 1 Mile
Recreation: Less than 6 Miles
Studio Apartments
1-Bedroom Units
2-Bedroom Units
Air Conditioning/Climate Control
Kitchenette
Emergency Call System
24-Hour Staffing
Parking Provided
Fitness Room/Gym
Beauty/Barber Shop
TV and Media Room with Nintendo Wii®
Billiards Lounge and Game Room
Library
Swimming Pool
Activities
Full-Time Activity Director
Live Musical Entertainment
Wii Bowling, Card Games and Group Activities
Exercise and Fitness Programs
Arts Classes
Amenities
Outside Patio/Gardens
Cable/Satellite TV
Pet Policy: Pets allowed
Private Dining Room
Restaurant-style Dining
Services
Transportation to Appointments
Other Transportation Provided
Housekeeping
Holiday Travel Program
Seniors Serving Seniors Program
Back to Top
Resources Near Desoto Beach Club
Nearby Senior Communities
Senior Living in Nearby Cities
Other Senior Living in Sarasota