Need help? Have questions? Call 1-800-748-4024
Lantern Crest Senior Living
11010 Sunset Trail, Santee, CA 92071
Description of Lantern Crest Senior Living
__________________________________________
Newly built in 2012, Lantern Crest Senior Living is centrally located in San Diego County close to local shopping spots, dining destinations and area parks. Providing a range of retirement living options, we invite seniors interested in enjoying their lives to the fullest to consider joining our big family.
Featured Amenities
During their stay, seniors at our community reside in one of our cozy studio or one-bedroom apartments.
Available in a variety of floor plans, each unit comes standard with a private bath, emergency call system and individually controlled thermostat.
When not enjoying the comfort of their relaxing accommodations, residents can be found working on a personal project in our arts and crafts room, and sharing a tasty beverage with friends in the bistro. Our library is a great spot to relax with a good book.
Available Services
To help guarantee accommodations stay feeling clean and fresh, we provide weekly linen and housekeeping services for all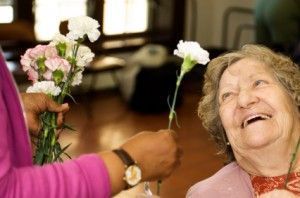 accommodations. Personal laundry services are also provided.
When a resident needs a little extra help completing everyday tasks, our staff members are available around the clock to lend a helping hand. This includes assistance with medication management, personal hygiene, dressing and ambulation. For our residents who face the challenge of Alzheimer's or another form of dementia, we provide specially tailored services through our Generations Memory Care program.
With a brand-new location and a package of services to match, Lantern Crest Senior Living offers the best in retirement options for Santee seniors.
Costs for Lantern Crest Senior Living
Assisted Living Starting Cost per Month: $3,995
Independent Living Starting Cost per Month: $3,390
Medicaid/Medicare Not Accepted
VA Benefits Accepted
Long-Term Care Insurance Accepted
Amenities at Lantern Crest Senior Living
Property Info
Licensed Capacity: 100
Emergency Services: Less than 5 Miles
Shopping: Less than 1 Mile
Recreation: Less than 1 Mile
Minimum Age: 62
Number of Units: 80
State License #: 374603253
Semi-Private Units
Private Units
Studio Apartments
1-Bedroom Units
Air Conditioning/Climate Control
Kitchenette
Emergency Call System
24-Hour Staffing
Employee Background Checks
Parking Provided
Fitness Room/Gym
Beauty/Barber Shop
Movie Theater
Library
Bistro
Activities
Full-Time Activity Director
Educational Opportunities
Local Outings and Excursions
Live Entertainment
Fitness and Exercise Programs
Amenities
Outside Patio/Gardens
Computer/Internet Access
Cable/Satellite TV
Special Meals: Diabetic,Low-salt,Pureed
Private Dining Room
Restaurant-Style Dining
Services
Medication Management
Diabetes Care
Help with Activities of Daily Living
Transportation to Appointments
Guest Apartment
Guest Meals
Room Service
Housekeeping
Ambulation and Escort Services
Generations Memory Care Program
Back to Top
Reviews of Lantern Crest Senior Living
Write a review
Lantern Crest Senior Living

Review by

Sep 19, 2016

Family Or Friend Of A Current/Past Resident

I really like Lantern Crest. The staff is very friendly and I always feel like they care about my grandmother as much as I do. Things aren't always perfect, but if something goes wrong they are easy to talk to and work to get it fixed. I really like how busy my grandmother is and how happy she is.

Lantern Crest Senior Living

Review by

Aug 2, 2015

Visitor

Lantern Crest Senior Living has its pros and its cons. The pros of this facility are that it is very modern and updated with plenty of great features and amenities. Lantern Crest Senior Living has plenty of regularly hosted activities and a good amount of amenities. While Lantern Crest Senior Living is a good facility overall, it falls short in the area of management. Though the staff is competent, they seem overworked.

7 people found this helpful. Was this helpful?

Lantern Crest Senior Living

Review by

Feb 11, 2015

Family Or Friend Of A Current/Past Resident

This community stands out from the rest. They provide superior personalized care and are focused on total customer satisfaction. Thank you Lantern Crest...

5 people found this helpful. Was this helpful?

Lantern Crest Senior Living

Review by

Nov 12, 2013

Family Or Friend Of A Current/Past Resident

My grandma, who is in her 90s, moved into this place when it opened in June 2012. We have consistently experienced problems with her meds, which aren't too involved, being given at the wrong time, not at all, or incompletely. The place is understaffed and several times she wasn't even taken to her meals because they were too busy to get her. We know other residents who moved out because their meds were goofed up repeatedly and they had lost confidence in the staff. Another moved because she couldn't stomach the food. They're on their third chef here and he's no better than the other two. Tonight I ordered a BLT sandwich for my grandma's dinner, with crispy bacon. I was surprised to find the bacon actually crispy, but then disappointed when I discovered they had precooked the bacon, frozen it, then microwaved it for her sandwich. The bacon was fully cooked but still partly frozen. A couple weeks ago I ran into a resident in the hall in her wheelchair, with her lap full of yogurt, granola bars and other snacks from the bistro room. When I asked how she was she snapped at me that she was starving. It's hard to fill up on meals here when the food is so unappetizing. Many residents' families bring in food to compensate for the problem. Also, we have complained many times about the understaffing issue and we just get lip service. They have as much help as they did when the place opened and only a few people lived here. Caregivers arrive in a sweat when it's time to bathe my grandma because they literally race from room to room for fear of being written up for not staying on schedule. All they care about is saving every nickel they can, all at the expense of the care and comfort of residents. If my grandma were not in her 90s we would probably move her, but as it is we're at the mercy of Lantern Crest. They call it luxury assisted living here, but it's a joke. What makes the place tolerable is some of the very nice people who work here, unfortunately none of them are in positions of authority. Beware.

15 people found this helpful. Was this helpful?

Provider Response

Nov 15, 2013

Lantern Crest strives each and everyday to ensure our residents and their family members have a wonderful experience living with us. That being said we are not infallible and can make mistakes. Our goal is to learn from them and grow to be a better community. Lantern Crest serves residents from all walks of life and it is an extremely difficult task on a daily basis to satisfy everyone 100% of the time. We believe sometimes the most difficult area is dining. Our residents eat with us 3 times a day 365 days a year. I would love to say every meal is fabulous and every resident leaves everytime satisfied but that is not true. We host monthly "Chat with the Chef" meetings where our residents and their families can voice any concerns and make suggestions for our upcoming menus. We also have a comment card on each table to allow our residents to leave a comment,complaint or suggestion at any time. Our Food Service Director is attentive and follows through on compliments,complaints and suggestions. We do not pre-cook bacon, freeze it and reheat it in a moicrowave. We don't have a microwave in our kitchen. We believe our staffing ratios are adaquate and have increased our staff in all areas tremendously since we opended our doors in June 2012. Our staff works very hard and may have a day where they are required to intervene in emergencies and special requests from our residents. This can result in a more hectic day and require more from our staff. We appreciate all the work they do and are dilligent in ensuring they have all the tools necessary to get the job done. Lantern Crest is not about nickel and diming our residents and respect that our residents have worked their entire lives to save for their retirement. We are advocates for our seniors and want to be a resource to all seniors and their families in the Santee area. We encourage you to visit Lantern Crest anytime and enjoy a meal on us. You will then have the opportunity to talk with our residents who believe Lantern Crest is a great place to live.
Resources Near Lantern Crest Senior Living
Nearby Senior Communities
Senior Living in Nearby Cities
Other Senior Living in Santee