Bridgecreek
(3 reviews)
3601 E Holt Ave, West Covina, CA 91791
Reviews of Bridgecreek
Write a review
Review Averages
3.33 out of 5.0
Bridgecreek

Review by



Jul 18, 2017

I Visited This Facility

I was so awestruck by Bridgecreek that I could not believe that it was a place for retired individuals. I took my cousin with me, we're both over 60, and she and I were in shocked. It was immaculate. The company takes care of its employees to the point that they have their children come and work at the community. It means they must have a low turnover. It has a very family-oriented feel; it's very comforting. I think my blood pressure dropped about 20 points. The staff gave us a tour of the place. I fell in love with one particular place. Everything was impeccable. I'm in a wheelchair, and I noticed that you can easily put 2 wheelchairs in there. On realizing everything and putting into perspective, that's where I want to go. Right now, my goal is to be able to make that come to fruition.

Bridgecreek

Review by



Jul 18, 2017

I Visited This Facility

Bridgecreek was terrible. It seemed like there was no attention to detail. It was kind of a wannabe. They wanted to, but they just didn't hit the high note. I did not like it. For instance, they didn't have a workout room. All the workout equipment was in the middle of the hallway, and that's what they use. I thought that was kind of sad. They should hire a professional decorator. They didn't seem to have their act together. We saw their library, and it's just like a small bedroom. And we went into 2 units, and they were very dark. Also, everything is off the freeway. It is interesting, however, how they were not able to insulate that. At the other place, which is directly next to a freeway, they were able to do that.

Bridgecreek

Review by



Jun 17, 2016

I Visited This Community

I loved Bridgecreek. We experienced eating with the community and how it feels if our family member was there. They followed up with us afterward. The rooms were nice, clean, and roomy. Their dining room was nice and had a view of the creek. The staff lives inside the community, so it makes it more like a family environment. They invest their time in the residents.

1 person found this helpful. Was this helpful?
Description of Bridgecreek
_____________________________________________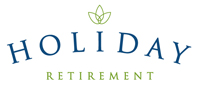 Located in a quiet suburb of Los Angeles, you'll love the beautiful grounds and elegant facilities of the retirement community of Bridgecreek. We're in the middle of it all in Southern California, close to shopping, dining, healthcare services and many local attractions. If you're in the mood to explore, make sure to visit the Angeles National Forest, the Japanese Garden and Pio Pico State Historic Park. Our live-in managers make you feel like a valued member of our family, and we look forward to meeting you.
Bridgecreek is a part of Holiday Retirement, a company in the business of providing comfort, value and security to seniors. Since 1971, Holiday has been creating cheerful communities for individuals who want to enjoy an independent and enriching retirement.
Featured Amenities
Residents at Bridgecreek experience the peace and luxury of suburban living, while still being close enough to enjoy all of the regional attractions and amenities. Our
exciting activity program features a huge variety of fun events, with everything from high tea to bowling. Enjoy the convenience of grabbing a book from our library or savor a delicious meal in our restaurant-style dining room.
We offer accommodations in studio, one- and two-bedroom models. We encourage our residents to furnish their rooms in a style that makes them feel the most at home, because to us—you are family. We are also proud to be a "pet-friendly" community, and can hardly wait to meet your furry friend.
Available Services
Here are Bridgecreek, we are happy to offer weekly housekeeping and linen service, so your valuable time can be spent on more important things, like enjoying your
retirement. If you need a ride into town, our shuttle service would be happy to drive you. Our live-in managers are available around the clock to meet any needs or concerns that you might have.
We understand that each individual is unique and that needs may change over time. Holiday does not provide any health care services. However, residents are welcome to receive services from any outside home health care provider of their choice to help them continue enjoying life at our community.
Bridgecreek would be a great choice for seniors who desire an exceptional place to spend their golden years.
Costs for Bridgecreek
Independent Living Starting Cost per Month: $2,699
Amenities at Bridgecreek
Property Info
Emergency Services: Less than 5 Miles
Shopping: Less than 2 Miles
Recreation: Less than 1 Mile
Minimum Age: 55
Private Units
Studio Apartments
1-Bedroom Units
2-Bedroom Units
Kitchenette
Emergency Call System
24-Hour Staffing
Parking Provided
Fitness Room/Gym
Billiards Lounge
Game Room
TV & Media Room
Activities
Full-Time Activity Director
Bean Bag Baseball
Trips & Outings
Exercise Classes
Bible Study
Amenities
Outside Patio/Gardens
Cable/Satellite TV
Pet Policy: Small pets allowed
Private Dining Room Available
Restaurant-Style Dining
Services
Other Transportation Provided
Private Laundry
Housekeeping
Linen Service
Travel Program
Live-In Managers
Back to Top
Resources Near Bridgecreek
Nearby Senior Communities
Senior Living in Nearby Cities
Other Senior Living in West Covina