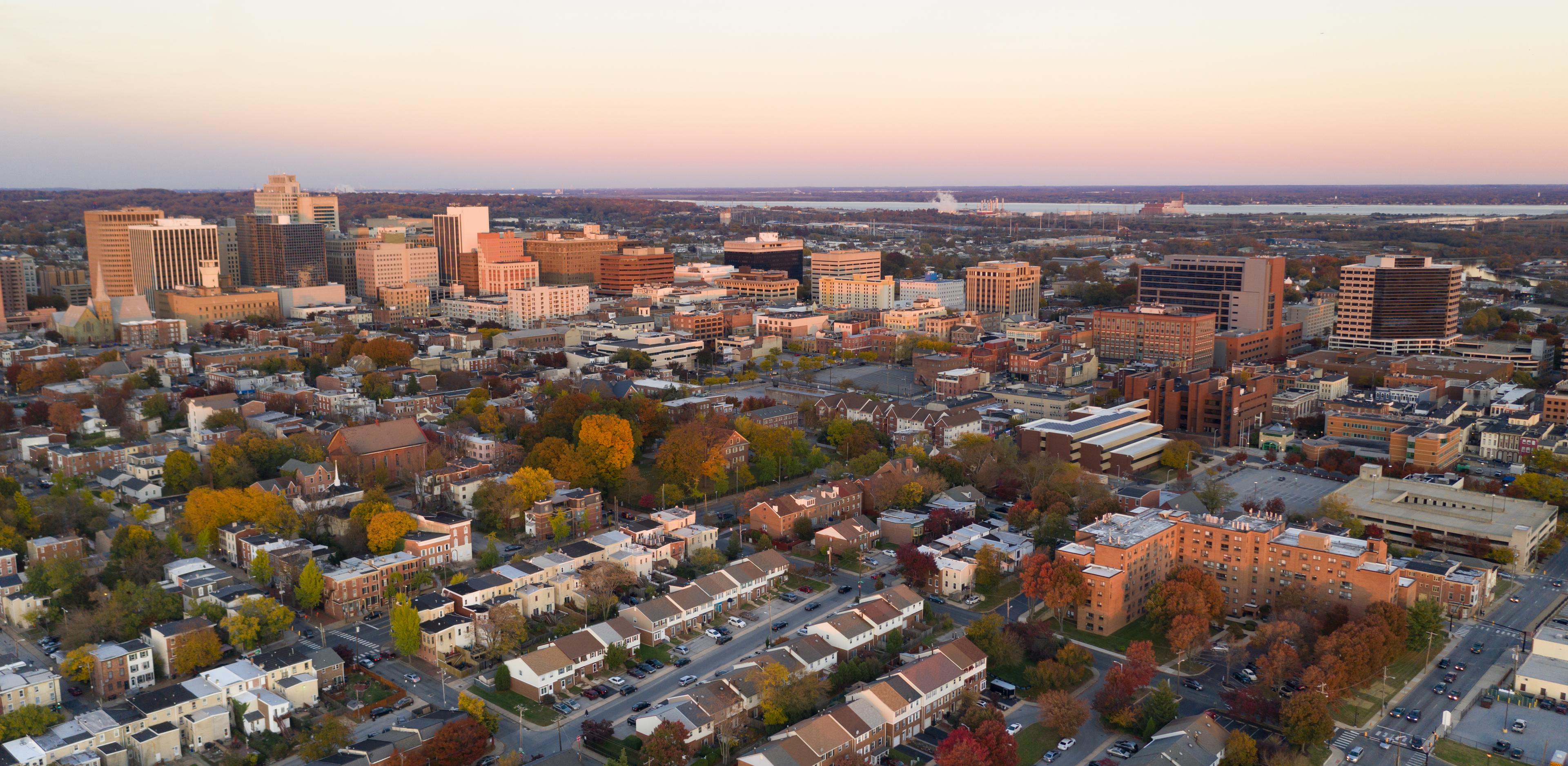 Nursing Homes in Delaware
Delaware is home to just over 1 million residents. It's also home to a large aging population, with over 20% of Delaware residents over the age of 65. While many seniors are able to age in place or reside in senior living communities, about 3,500 currently require a nursing level of care. There are roughly 45 nursing homes located throughout the state that are able to provide long-term skilled nursing care. 
When considering whether nursing care is right for yourself or a loved one, how to pay for care is one of the greatest concerns. This guide reviews what programs are available to assist seniors in the state who need ongoing care. It also offers additional resources for seniors and their families, from organizations that can help seniors fill out applications for financial aid to where seniors can file complaints if they're not satisfied with the quality of care they're receiving. 
Popular Cities in Delaware
Cost of Delaware Nursing Homes
The average cost of nursing homes in Delaware is $300 per day. This is higher than the national average which is $228 per day.
Can You Use Medicaid to Pay for Nursing Home Care in Delaware?
There are currently over 300,000 people enrolled in Medicaid in Delaware. Seniors can use Medicaid to pay for skilled nursing care if they meet certain criteria. Anyone considering applying for financial assistance needs to set up an appointment with the Division of Medicaid and Medical Assistance for a screening. During this meeting, a nurse will review an applicant's health history and current medical condition to determine whether they qualify for Medicaid assistance. Seniors must also meet income requirements and asset limits. 
Eligibility for Medicaid in Delaware
In addition to having a medical necessity for long-term nursing care, seniors must remain under the state's income and asset limits. For a single individual, the income limit is $27,420 per year, while the income limit is $54,840 for couples. If applying as an individual, the asset limit is $2,000 for the person applying and $148,620 for their spouse. If a couple applies together, the asset limit is $3,000.
| | Income Limits* | Asset Limits |
| --- | --- | --- |
| Single Person | $27,420 | $2,000 |
| Two-Person Household | $54,840 | $3,000 |
*Per year
To be eligible for Medicaid assistance for skilled nursing care, seniors must also meet the following criteria:
Over 65 years of age or physically disabled
A resident of the state of Delaware
A citizen or legal resident of the United States
In need of nursing-level care
Applying for Medicaid in Delaware
Residents wishing to apply for Medicaid may visit the DHSS website and apply online. They can also email DHSS at MedicaidInfo@delaware.gov for more information or to request a printed application. The Customer Relations hotline also offers assistance for residents who'd like to apply and can be reached at (866) 843-7212 or (302) 571-4900. Finally, seniors may contact the Health Benefits Manager at (800) 996-9969 for questions about their coverage and benefits. 
What Information You Will Need
When applying for Medicaid, you should have the following information on hand:
A driver's license or government-issued ID
Your income statements
Your name, address and date of birth
A Social Security card or green card
Statements showing your assets in your retirement and investment accounts
Additional Medicaid Support & Resources in Delaware
Seniors needing further assistance may contact one of the following organizations for more information about Medicaid benefits or assistance in applying.
| | Contact | Service |
| --- | --- | --- |
| Delaware SHIP | Info@DelawareSHIP.org | The Delaware SHIP program helps all Delaware residents learn more about their health care options and find the right plan for them. Seniors may contact Delaware SHIP if they need assistance with their Medicaid benefits. |
| Delaware Health and Social Services | (800) 652-2929 (New Castle County)(800) 345-6785 (Kent and Sussex Counties) | Delaware Health and Social Services helps residents across the state in need of care for disabilities, mental health problems, skilled nursing care and more. Seniors may contact Delaware Health and Social Services for help selecting a nursing facility and finding the best way to afford care. |
| DMMA Medical Assistance Services | (302) 255-9500 | The DMMA Medical Assistance Services website allows residents to apply for Medicaid online from the comfort of their homes. |
Can You Use Medicare to Pay for Nursing Home Care in Delaware?
Medicare provides limited coverage for short-term stays in a skilled nursing facility following a hospital stay, but seniors must meet a number of specific requirements. This benefit is available to beneficiaries who have been hospitalized for at least three days, excluding the date of discharge, so it's most valuable for those who are recovering from an injury, illness, or surgery.
Once seniors meet the hospitalization requirement, Medicare will pay for up to 100 days of skilled nursing per benefit period. The first 20 days are covered in full. Starting on day 21, beneficiaries must pay a daily coinsurance rate. After day 100, seniors are responsible for the entire cost.
What Does Medicare Cover?
Medicare covers a number of specific services, including:
Meals
A semiprivate room
Medications
Skilled nursing
Physical therapy
Occupational therapy
Speech therapy
Audiologist care
Medical supplies
Medical social services
Nutritional counseling
Ambulance transportation
What Isn't Covered by Medicare?
Medicare does not cover long-term custodial care that addresses seniors' day-to-day needs. This includes help with daily activities, such as bathing, dressing and using medical equipment.
For more information about Medicare and when it covers Nursing Home Care, read our Guide to Nursing Homes.
Medicare Support & Resources in Delaware
Seniors in need of assistance enrolling in Medicare or understanding their benefits may contact the following organizations in Delaware:
| | Contact | Service |
| --- | --- | --- |
| Delaware Medicare Assistance Bureau | (800) 336-9500 | The Delaware Medicare Assistance Bureau helps educate seniors about their Medicare insurance options. Seniors can ask one of the bureau's volunteers for assistance with their enrollment if they have questions or concerns. |
| Delaware Senior Medicare Patrol Program | (800) 223-9074 | The Senior Medicare Patrol Program helps educate seniors in Delaware regarding their rights and available Medicare programs. Seniors can also obtain information about what to do if they wish to report abuse. |
| Delaware Department of Insurance | (302) 674-7300 | The Delaware Department of Insurance advocates on behalf of all residents in matters of health insurance and medical aid. It also has oversight over the Medicare Advantage program and insurance agents throughout Delaware. |
| Delaware Aging and Disability Resource Center (ADRC) | (800) 223-9074 | The Delaware ADRC offers educational resources and assistance for seniors on a variety of matters, from helping seniors enroll in Medicare and Medicaid to assisting them in determining which care options are best for them. |
Other Financial Assistance Options for Nursing Home Care in Delaware
While Medicaid and Medicare are two of the most common programs used to pay for Nursing Home Care, there are other financial assistance options available, depending on your unique situation.
| | How to Apply | How It Works |
| --- | --- | --- |
| Aid and Attendance | Learn more and apply online at va.gov. | Veterans who receive a VA pension may also be eligible for the Aid and Attendance benefit, a monthly cash allowance that veterans receive in addition to their standard pension amount. The benefit is intended for veterans in need of long-term care services and may be used towards paying for skilled nursing care. |
| Reverse Mortgages | Learn more about your options and how to apply at ftc.gov. | If you own a home, you may be able to use a reverse mortgage to help pay for nursing care. Reverse mortgages are loans that one can take out against the value of their home, essentially converting some of the home's equity into cash. This type of funding can be especially useful for married couples when only one partner needs nursing care, as the other residents of the home may continue living there. Reverse mortgage loans do need to be repaid with interest, typically within 12 months of receiving the loan. |
| Long-Term Care (LTC) Insurance | Learn more about Long-Term Care Insurance and how to apply for a policy at acl.gov. | Seniors who already have long-term care insurance may be covered for skilled nursing care. Most policies cover at least a portion of the cost of nursing home care, but it depends on the specific policy terms. Note that older adults who are already in need of skilled nursing care will not be eligible to sign up for a LTC insurance policy. |
Nursing Home Laws and Regulations in Delaware
| | |
| --- | --- |
| Licensing Requirements | The Department of Health and Social Services and the Division of Health Care Quality both oversee skilled nursing facilities in the state of Delaware. |
| Staffing Requirements | Delaware nursing facilities must have enough staff employed to provide at least 2.25 hours of direct attention to each resident. They also must have an RN or LPN on duty during regular hours and on call at night. |
| Staff Training Requirements | Staff training must include education on infection control procedures, how to use PPE and health and safety measures for residents. Certified nursing assistants need to complete 150 hours of training, and memory care staff must have relevant training. |
| Admission Restrictions | Nursing homes are allowed to admit patients that are physically or mentally impaired (under the guidance or care of a doctor) or those who would benefit from skilled nursing care. Nursing homes that provide services to underage patients must meet special requirements. |
| Care Planning Requirements | Patients must receive a needs evaluation within two weeks of admission. The nursing facility must implement an individualized care plan within a week of the evaluation to take care of the resident's dietary, physical, mental and psychological needs. |
| Dietary and Nutritional Services Requirements | Nursing homes must evaluate every resident's nutritional needs and offer snacks and meals that meet those needs. Menus must be posted in the kitchen and dining areas so residents and their families know what's served each day. |
| Specialized Rehabilitative Services | Skilled nursing facilities may choose to offer physical therapy, speech therapy and rehabilitative care as needed. |
| Medication and Pharmaceutical Services | Every nursing home must consult a qualified pharmacist to review patients' medications and correct inaccuracies. Medications must be labeled, dispensed and recorded in a strict manner to prevent errors. |
| Activities Requirements | Nursing facilities should have plenty of common areas residents can use for social and recreational activities. Facilities are also required to have an activities director who oversees regular activities. |
| Infection Control Requirements | Delaware nursing homes must delegate infection control to an employed infection control manager. This role oversees the implementation of disease prevention protocols and responses to outbreaks of illness. |
| Medicaid Coverage | Residents who meet the state income requirements and asset limits may qualify to receive Medicaid coverage for qualifying nursing care, as long as they're using all of their income to pay for skilled nursing care — aside from a state-allowed exemption for personal spending. |
Find Communities
Senior Homes has an extensive directory of senior living options, with care and living providers across the United States. 
Compare Costs, Photos, & Reviews of All Your Options Near Delaware
By clicking "Get Costs" I am providing express written consent to receive calls including automated/pre-recorded calls and automated texts for which I may incur a cost, as well as emails from Caring and its partners. I understand I am not obligated to provide this consent to utilize Caring's service(s). I acknowledge I was able to review the Agreement to be Contacted, Terms of Use, and Privacy Policy.