Sandy Assisted Living
There are 9 Assisted Living Facilities in Sandy, UT and 30 Assisted Living Facilities nearby.
Average Cost: $4,500
8325 S Highland Drive
Sandy, UT 84093
As Active as You Want to Be! The Wentworth of Willow Creek is a state-of-the-art assisted living and memory care provider located in Sandy, UT. ...
---
1375 East 9400 South
Sandy, UT 84093
Located at the base of the East Bench of Sandy, Alta Ridge's memory care community is a 31-bed specialty center for those with memory problems. Our...
---
1360 East 9400 South
Sandy, UT 84093
Surrounded by the beautiful views of Wasatch Mountains, Alta Ridge Assisted Living is designed to suit the specific needs of each resident.
---
2130 East 9400 South
Sandy, UT 84093
A friendly and elegant retirement community is waiting at Sunrise of Sandy, offering assisted living, Alzheimer's/memory care and short-term stays for seniors.
---
10970 South 700 East
Sandy, UT 84070
Set against a spectacular mountain backdrop just 20 miles from Salt Lake City, Cedarwood at Sandy offers luxury independent and assisted living accommodations, services and amenities.
---
---
115 WEST 9400 SOUTH
Sandy, UT 84070
---
8670 SOUTH 1325 EAST
Sandy, UT 84070
---
---
Back to Top
Reviews of Sandy Assisted Living Facilities
---
---
---
---
Back to Top
Map of Sandy Assisted Living Facilities
Information About Assisted Living Facility in Sandy
Sandy, or Sandy City as it was originally named, is located 13 miles south of Salt Lake City in a suburb nestled at the base of the Wasatch Mountains. The city was named for the consistency of the soil it was founded on, which is mainly sand. Sandy has been transformed from mining and agriculture to a quaint, family-oriented setting. The city's population is around 95,000 people, making Sandy the fifth-largest city in Utah. Senior citizens who choose
assisted living in Sandy
will enjoy the quality of life that the city offers. Retirees are often drawn to this region because of the entertainment, recreational amenities, quality healthcare, beautiful mountains and valleys, and affordable cost of living.
Sandy Attractions
Residents of assisted living in Sandy have no shortage of things to do. Sandy offers a wide range of culture and arts at the
Sandy Amphitheater
, which is host to a variety both local and national performing arts talent. For bargain lovers, the city is also home to one of the state's largest shopping malls,
South Towne Center
. Sandy is the home of
The Living Planet Aquarium
. A great place to visit with the grandkids, the aquarium displays a variety of aquatic life and native Utah species. All of Sandy's entertainment and cultural amenities are handicap-accessible and friendly.
Sandy Senior Activities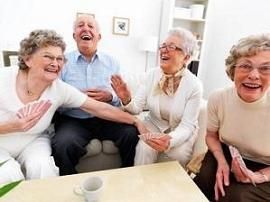 The
Sandy Senior Center
is open to citizens age 60 and over. Residents of assisted living in Sandy can head to the Center to enjoy over 100 different activities per month. Programs include dances, social events and classes on everything from computers to watercolor. There is no charge to visit and participate in the activities, although some activities may ask for a donation to cover cost of the materials.
Sandy Medical Facilities
The
Alta View Hospital
Senior Clinic offers a wide range of services for the elderly including longer appointments and on-site lab screenings. Alta View employs board-certified geriatric physicians, nurses and continuing care managers. Seniors enjoying assisted living in Sandy make take advantage of community resources, memory screenings, Advanced Care planning and medical equipment information available at the hospital.
Sandy Public Transit
Getting to and from a community of assisted living in Sandy by bus is easy with service from the
Utah Transit Authority (UTA)
. In addition to traditional bus service, the city is also served by the TRAX light rail system. TRAX covers a 16-mile route from Sandy to downtown Salt Lake City with planned extensions scheduled for completion in late 2011. The Sandy Senior Center also offers van pick-up service for local seniors. Pick-up begins at 7:30am and return trips start at 1pm.
Find Assisted Living in Sandy
In the past 15 years, Sandy has built up their culture, shopping, entertainment and recreation with things that every resident would be able to enjoy. View a list of local housing by visiting our
Sandy Assisted Living
page.
Written by senior housing staff writer
.
Back to Top