Islip Senior Living
There are 2 Senior Living Options in Islip, NY and 30 Senior Living Options nearby.
Average Cost: $4,500
152 Islip Ave Suite 25
Islip, NY 11751
Thank you for your inquiry regarding home companion services. SeniorCare Companions was formed in 2004, and has been providing quality home compan...
---
---
Back to Top
Reviews of Islip Senior Living Options
It didn't take long for us to get a caregiver from SeniorCare Companions. The caregiver comes once a week and serves as a companion to take my mom shopping and do light housework. She's caring, friendly, and upbeat...
Read more SeniorCare Companions, Inc. reviews
---
SeniorCare Companions, Inc. is good, but it's fairly expensive. I wish the help was a little less lazy. They're good though and the help itself is OK. We had a rocky start because they sent people that weren't qualified as far as I'm concerned. They cook, help clean nails, and help with showering...
Read more SeniorCare Companions, Inc. reviews
---
Back to Top
Map of Islip Senior Living Options
Information About Senior Living Option in Islip
Formerly inhabited by Algonquin Indians, the Town of Islip has a long and rich history dating back to before the country's founding. Located in Suffolk County, Islip is home to just over 300,000 citizens on the shores of Long Island. Founded in the 17th century, this college town offers a rich community of businesses, tourism and neighborhood life. Due to the town's close proximity both to the Atlantic Ocean and Fire Island, Islip was a well-known summer tourist destination during most of the 19th and 20th centuries. More recently, the community has evolved into a residential suburb of Manhattan.
Islip senior living
offers retirees quiet suburban living only minutes from the attractions, amenities and services of New York City.  
Islip Attractions
Although lacking the attractions and nightlife of neighboring Manhattan, the town still offers many attractions for those enjoying Islip senior living. During the growing season from June until November, Islip has an extensive farmer's market with many local foods and goods. For art and culture lovers, the
John W. Engeman Theater
at Northport offers high-quality theatrical performances, while the
Long Island Museum of American Art, History and Carriages
gives a nod to the area's past. The town also boasts several state parks, beaches and historical sites for those interested in getting outdoors and seeing the countryside.
Islip Senior Activities
Islip's senior living activities and programs are many, as the town's six senior centers host a variety of events. Pancake breakfasts, Bingo events and pizza dinners are just a few of the opportunities offered in a given month to help Islip senior citizens connect with others in the community and try new things.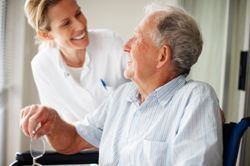 The town also sponsors several Senior Citizen Clubs, encouraging local seniors to bond over their shared interests.
Islip Medical Facilities
Adults enjoying senior living in Islip benefit from close proximity to several quality hospitals in the area.
Good Samaritan Hospital
, a 537-bed, non-profit medical facility in West Islip, has been serving the Long Island community since 1959. Accredited by the Commission on Cancer of the American College of Surgeons and the American College of Radiology, Good Samaritan provides care to hundreds of thousands of people each year.
Southside Hospital
in Bay Shore also provides medical care to the Islip community. Southside operates a State-designated stroke center, Level II trauma center and is well known for its physical medicine and rehabilitation programs.
Islip Transit
Residents of Islip senior living are able to live car-free with the town's many convenient public transportation options. Local bus and paratransit services are provided by
Suffolk County Transit
and Islip boasts its very own stop on the
MTA Long Island Rail Road
, which connects all of Long Island to New York City. Private ferry service across the Great South Bay to the beaches of Fire Island is available year round from nearby Bay Shore and Sayville, and Long Island MacArthur Airport is less than 10 miles away.
Find Islip Senior Living
Those considering retirement destinations have many possibilities and necessities to think about, including medical needs, socializing and the chance for new experiences. In these things, Islip, New York has options to spare, and more happening all the time. Browse our comprehensive directory to find
Assisted Living
,
Independent Living
and
Retirement Communities
in Islip.
Written by senior housing staff writer
.
Back to Top