Sterling Heights Assisted Living
There are 13 Assisted Living Facilities in Sterling Heights, MI and 30 Assisted Living Facilities nearby.
Average Cost: $4,500
14560 Lakeside Circle
Sterling Heights, MI 48313
Atria Shorehaven is a peaceful and welcoming senior living community. Residents enjoy relaxing by the nearby lake and taking a stroll around the scenic shoreline.
---
34505 Clearview Circle
Sterling Heights, MI 48312
Genesis Senior Living V is a licensed small scale assisted living home located in Sterling Heights, Michigan that is owned and operated by medical professionals.
---
36688 Briar Cliff Road
Sterling Heights, MI 48312
For more than 100 years Hearthstone Communities has been the home for Illinois seniors who are seeking a faith-based setting in which to enjoy retirement.
---
35500 Moravia Drive
Sterling Heights, MI 48312
Moravian Manor is located in Sterling Heights, Michigan. We are an assisted living community that offers homes for senior citizens to live with a l...
---
14750 Lakeside Circle
Sterling Heights, MI 48313
Ideally located across the street from the Lakeside Mall, Waltonwood at Lakeside is a luxurious retirement community catering to seniors who wish to enjoy independent living.
---
2200 Fifteen Mile Road
Sterling Heights, MI 48310
---
11255 15 Mile Rd.
Sterling Heights, MI 48312
A beautiful small one floor community with all the comforts of home, American House Sterling Heights is a welcoming senior living residence.
---
33433 Schoenherr
Sterling Heights, MI 48312
We are a beautiful maintenance free Independent apartment living set on five acres with a private walkway. We have both 1 and 2 bedroom apartments ...
---
---
14900 Shoreline Drive
Sterling Heights, MI 48313
---
---
13707 Clinton River
Sterling Heights, MI 48313
---
8384 Metropolitan Parkway,
Sterling Heights, MI 48312
---
Back to Top
Reviews of Sterling Heights Assisted Living Facilities
---
---
---
---
---
---
Back to Top
Map of Sterling Heights Assisted Living Facilities
Information About Assisted Living Facility in Sterling Heights
There is a lot that can be said about Sterling Heights, the fourth largest city in Michigan. With a population of over 130,000 people, this Detroit suburb is actually considered by many to be a "city of subdivisions" rather than a "city of ethnic neighborhoods". Incorporated in 1968, Sterling Heights was hailed by 
Money
magazine in 2006 as being one of the best small cities to live in within the United States. The city has also been ranked as the safest city in Michigan (13
th
in the nation). As a resident or visitor, you can visit the
Franklin Cider Mill
, view art at the
Cranbrook Art Museum
, listen to some amazing music at the
Detroit Opera House
or stop by the the
Detroit Zoo
and
Belle Isle Nature Zoo
(remember, Detroit is not that far away).
Organizations Serving Seniors in Sterling Heights
Assisted living in Sterling Heights is easy to do thanks to several different organizations that the city has to offer. The
SarahCare Adult Day Care Center
 offers a safe, stimulating environment for area seniors, providing transportation both to and from the center. Some of their special programs include pet and music therapy and even a program that is known as the "Men's Den".
Area Agency on Aging 1-B
has Meals on Wheels and senior health and wellness programs, including senior driving. It even offers information on how to make smooth nursing home transitions. Sterling Heights also has a Retired Senior Volunteer Program and the
Older Persons Commission
. The commission offers everything from arts & crafts to leisure travel for seniors.
Sterling Heights Senior-Friendly Activities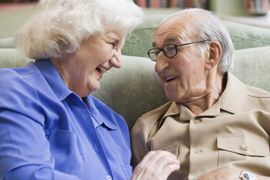 The Fraser City Senior Citizen Center is a favorite for seniors who live in the Sterling Heights area. A membership is required and there are weekly events and discounts on weekend trips that are offered. There is also the
Clinton Township Senior Adult Life Center
which has a fitness center and many different types of social events. And again, if you're willing to drive about 30 minutes to Detroit, the city has everything from the
Motown Historical Museum
and the
Ford Piquette Avenue Plant
to the
Anna Scripps Whitcomb Conservatory
along with lots of theaters, eateries and museums.
Sterling Heights Medical Facilities
Assisted living residents living in Sterling Heights have a variety of different medical facilities to choose from. The
Henry Ford Medical Center
offers dialysis, neurology and heart and vascular services. It also has a Bariatric Surgery Center. The
Beaumont Medical Center
offers digestive health, Orthopedics and special women's health services. If you are looking for senior housing for yourself or a loved one, explore our
Sterling Heights assisted living facilities
.
Back to Top