Washington Independent Living
There are 10 Independent Living Facilities in Washington, DC and 30 Independent Living Facilities nearby.
Average Cost: $4,500
5420 Connecticut Avenue, Northwest
Washington, DC 20015
For over 35 years, DC-area seniors have made The Chevy Chase House retirement community their home when they are ready to shed life's responsibilities and embrace carefree living.
---
1330 Massachusetts Avenue Northwest
Washington, DC 20005
At The Residences at Thomas Circle, you will find open-minded seniors from every walk of life living in one of DC's most exciting, revitalized neighborhoods.
---
---
4201 Butterworth Place, Northwest
Washington, DC 20016
Friendship Terrace is a community of 180 beautiful apartments.
---
2501 18th Street Northeast
Washington, DC 20018
---
1400 Florida Avenue Northeast
Washington, DC 20002
---
3760 Minnesota Avenue Northeast
Washington, DC 20019
---
1221 M Street Northwest
Washington, DC 20005
---
896 Southern Avenue Southeast
Washington, DC 20032
---
603 50th Street Northeast
Washington, DC 20019
---
Back to Top
Map of Washington Independent Living Facilities
Information About Independent Living Facility in Washington
Situated along the Potomac and Anacosta Rivers, Washington DC is the nation's capital and the crown jewel of the mid-Atlantic. The city of nearly 630,000 is steeped in over 200 years of national and regional history. Home of the U.S. Capitol, the White House, Lincoln Memorial and countless other national treasures, Washington DC holds the unique distinction of not being a part of any state; instead, the entire city makes up the District of Columbia, a capital district originally formed in 1790. With hundreds of attractions, events and venues, Washington DC independent living is nothing short of an amazing experience for active seniors looking forward to their golden years.
Attractions
Washington DC independent living comes with the opportunity to enjoy many of the sights and sounds the district has to offer. As the nation's capital, Washington DC offers an amazing array of activities that active seniors are sure to enjoy. Dozens of national landmarks and monuments, including the National Mall and Lincoln Memorial, are free and open to the general public. Washington DC is also home to the best fine arts venues in the nation, including the John F. Kennedy Center for the Performing Arts. The Kennedy Center is the home of the National Symphony Orchestra and the Washington Ballet.
Senior Activities
Residents of Washington DC's numerous independent living communities can enjoy one of over a dozen senior centers located throughout the district. Care management company Iona operates some of these senior centers, including the Isabella Breckinridge Center. Seniors can enjoy a variety of activities including crafts, dancing, fitness and outdoor recreation in a positive environment while meeting new faces and catching up with a few familiar ones. Some of the services offered at senior centers come free of charge, while others require a membership for a nominal fee. Staying active and engaged with fellow seniors is the key to enjoying an independent lifestyle.
Medical Facilities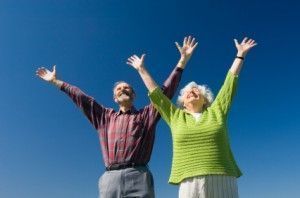 When it comes to Washington DC independent living, having access to the best medical facilities is always a top concern. Located on the campus of Georgetown University, MedStar Georgetown University Hospital carries a reputation for the highest possible quality of care. MedStar Georgetown serves as the teaching and research hospital for the university's School of Medicine and School of Nursing & Health Studies. The hospital's specialty areas include geriatrics, heart disease and gastroenterology.
Transportation
The Washington Metropolitan Area Transit Authority (WMATA) operates bus and rail (Metro) routes throughout the city. WMATA also operates the MetroAccess paratransit service, which provides door-to-door transit service to seniors with disabilities. MetroAccess operates year-round within 3/4-mile of WMATA's fixed bus and rail routes. MetroAccess customers can also use WMATA's fixed route services free of charge. Seniors can also use the DC Circulator to reach popular downtown destinations. Few other experiences compare to Washington DC independent living. For active seniors in the prime of their lives, it's an opportunity to embrace a worry-free lifestyle in a thriving metropolis.
Back to Top