Need help? Have questions? Call 1-800-748-4024
San Francisco Assisted Living
There are 44 Assisted Living Facilities in San Francisco, CA and 30 Assisted Living Facilities nearby. The average cost of Assisted Living in San Francisco, CA is $4,000 per month.
Average Cost: $4,500
Map of San Francisco Assisted Living Facilities
Information About Assisted Living Facility in San Francisco
San Francisco, popularly known as "The City by the Bay," is the recognized financial, commercial and cultural capital of the larger metropolitan Bay Area. Seniors who choose
assisted living in San Francisco
will love the colorful mix of people and places artistically thrown in with the city's rolling hills and famous landmarks. The climate itself is mild all year round, with moderate temperatures and rare snowfall, which makes San Francisco the perfect place for seniors looking to enjoy assisted living.
San Francisco Recreation
Residents of assisted living in San Francisco need not look far to be entertained, as areas of interest are usually within walking distance. The
San Francisco Zoo
, one of the top ten in America, showcases more than 1,000 animals including snow leopards and a rare white tiger. If one cares for a ride, there is always the city's acclaimed Cable Car system, globally recognized as a historical attraction in itself. This moving landmark services a 10-mile radius around the city, where diverse ethnic cultures are displayed throughout a variety of shops, restaurants, cafés and bars.
San Francisco Activities
San Francisco is renowned for its undying festive spirit, thanks to the thriving cultural mix of both local and foreign cultures. The city is home to the largest Chinese community in the U.S., and Chinatown's week-long Chinese New Year festival is one thing that seniors enjoying assisted living in San Francisco should not miss, with its exotic parades and cultural programs. In September, residents of assisted living communities will especially welcome the San Francisco Shakespeare Festival near Golden Gate Park's Conservatory of Flowers. Best of all, seniors get the chance to walk down memory lane during the San Francisco Fall Antiques Show and International Vintage Poster Fair in October.
San Francisco Medical Facilities
Residents of senior living communities can find many health centers in the city that will cater to their special needs.
San Francisco General Hospital
is the major public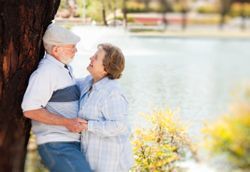 facility in the area, and the largest general acute care hospital. It is a Level I trauma center, and most importantly, home to an
Acute Care for Elders (ACE) unit
, a special treatment wing designed to meet the unique medial needs of seniors. The
University of California, San Francisco (UCSF) Medical Center
is ranked among the top 10 hospitals in the country, and has various branches and clinics scattered around the city, including a Senior Medical Center, making it accessible for any resident of assisted living in San Francisco.
San Francisco Transportation
Aside from being the financial and commercial capital, the city is also a hub for the region's transportation with access to most other cities within the San Francisco Bay Area. Besides the famous cable cars, buses and trains are also available. For outside travel, residents of assisted living in San Francisco can take the national
Amtrak
rail service, which grants discounts to elderly passengers, or
CalTrain
, the local rail line which goes as far south as San Jose. Ferry services are also offered to get residents and visitors alike across the bay to Oakland and Berkeley.
Cost of Assisted Living in San Francisco
Assisted living in San Francisco is generally more expensive than the rest of California. Seniors can expect to pay $51,000* per year for a single-occupancy, one-bedroom assisted living unit. Assisted living costs in San Francisco range from $2,250 to $7,500 per month, depending on the size, quality and location of the facility. The median monthly rate is $4,250, about $750 more per month than California as a whole.
Find Assisted Living in San Francisco
San Francisco is an ideal place to provide magic and excitement into your loved one's life. Find an assisted living community for your loved one on our
San Francisco Assisted Living
page.
Written by senior housing staff writer.
Back to Top