Pleasanton Assisted Living
There are 12 Assisted Living Facilities in Pleasanton, CA and 30 Assisted Living Facilities nearby.
Average Cost: $4,500
100 Valley Avenue
Pleasanton, CA 94566
A community designed to invigorate the mind and body and soothe the spirit is the best way to describe The Parkview, an assisted living and memory care community in Pleasanton.
---
5700 Pleasant Hill Road
Pleasanton, CA 94588
At Sunrise of Pleasanton we offer an ideal home like setting for seniors who value their independence, but may want or need support with some of th...
---
3220 Marilyn Court
Pleasanton, CA 94566
A provider of supportive living options, Parkside Manor offers services and amenities Pleasanton seniors seeking an inviting environment.
---
2624 Becard Ct
Pleasanton, CA 94566
Anne's Guest Home is an inviting home offering a selection of amenities and supportive services for Pleasanton seniors to consider.
---
3429 Stacey Way
Pleasanton, CA 94566
Families can rest easy when their loved one moves to Chateau Pleasanton. We treat each resident like a member of our family, offering the best in services and amenities.
---
3305 Hudson Court
Pleasanton, CA 94588
For those seeking a warm, home-like atmosphere for a loved one, with all the services and amenities they need, consider Juliets Care Home.
---
6839 Singletree Ct
Pleasanton, CA 94588
In our golden years, it is ultimately rewarding to have led a remarkable life. Yet certain personal difficulties and health ordeals are starting to...
---
---
---
1328 Montrose Place
Pleasanton, CA 94566
---
7229 Valley Trails Drive
Pleasanton, CA 94588
---
---
Back to Top
Reviews of Pleasanton Assisted Living Facilities
The Parkview was great. I didn't get that much information from the staff because I just showed up to look round. We looked around, and they gave us some information, and that's all because my father-in-law is extremely difficult. I liked it there; it's like living in a hotel...
Read more The Parkview reviews
---
Back to Top
Map of Pleasanton Assisted Living Facilities
Information About Assisted Living Facility in Pleasanton
The city Pleasanton is located roughly 25 miles East of Oakland in the greater East Bay area. Having outgrown it's 1850s nickname, "The Most Desperate Town in the West," Pleasanton has transformed from a town ruled by desperadoes into a growing, and pleasant, suburb of San Francisco. In 2005 and 2007, Pleasanton was ranked the wealthiest mid-sized city in the country by the U.S. Census Bureau, and is home to several corporate headquarters such as Safeway Inc., Oracle and Kaiser Permanente. With all these amenities and attractions,
Pleasanton assisted living
is a great option for seniors looking for high-quality living in a modern setting.
Pleasanton Recreation
This city sponsors a variety of events, festivals, natural attractions and other recreational activities for the benefit of
Pleasanton senior living
residents, tourists and the community. The Pleasanton Downtown Association puts on two major events each year.
First Wednesdays
refers to the first Wednesday of each month in which Main Street is closed to traffic and turned into a street fair. Local vendors and entertainers are on hand to provide food and entertainment for Pleasanton residents. The other major city event is
Friday Concerts in the Park
, a free, weekly concert series put on during the summer at Lions' Wayside Park.
Pleasanton Activities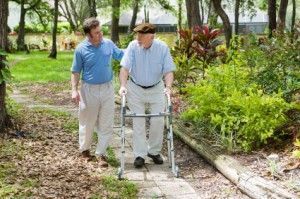 Active seniors will find no shortage of entertainment in Pleasanton. The
Pleasanton Senior Center
is the gathering place for the
Pleasanton assisted living
community with a packed schedule of organized activities such as bocce ball, movie nights, lectures, book clubs and other special events. Anyone aged 50 and older is eligible to participate in programs at the Center. Seniors may also enjoy an excursion to the
Museum on Main
, Pleasanton's local museum, chronicling the town's founding during the Wild West. A member of the Amador-Livermore Valley Historical Society, the Museum on Main has over 9,000 photographs, documents and objects on display which tell the story of Pleasanton.
Pleasanton Medical Facilities
Pleasanton senior living
communities are within short distance to numerous medical centers that provide quality healthcare services.
Valley Care Medical Center
is the city's top hospital and received the American Heart Association's Gold and Silver Performance Achievement Awards in 2009. The hospital provides quality and holistic care to all types of patients, with special attention paid to patients with cardiac conditions.
Pleasanton Transportation
Transportation from a
Pleasanton assisted living
facility to any destination in the city or the greater Bay Area is easily available through a unique combination of public transportation options. The
Wheels
bus service offers travel within the Dublin, Livermore and Pleasanton communities, and also connects residents with the
Bay Area Rapid Transit (BART)
rail system that travels from the East Bay to San Francisco. For seniors with physical limitations who cannot use regular buses, the city of Pleasanton provides
paratransit
services to those who are ADA eligible. A
Pleasanton assisted living
community is able to provide a wonderful and quality living experience for your loved one. Find a community today by visiting our
Pleasanton Assisted Living
page.
Written by senior housing staff writer.
Back to Top