Orange Assisted Living
There are 18 Assisted Living Facilities in Orange, CA and 30 Assisted Living Facilities nearby.
Average Cost: $4,500
Reviews of Orange Assisted Living Facilities
Beautifully appointed assisted living community in the city of Orange, California. The staff is family oriented and caring of their residents. There are many activities to keep the residents stimulated and involved. Delicious food in a beautiful atmosphere...
Read more Park Plaza reviews
---
We were impressed with Kirkwood. It has a very comfortable feeling, a very homey feeling, and that was our preferred location. We didn't see a lot of one-on-one contacts, but what we saw, we were impressed with. It looked like they provided a lot of activities for the residents to take part in...
Read more Kirkwood Orange reviews
---
Back to Top
Map of Orange Assisted Living Facilities
Information About Assisted Living Facility in Orange
The city of Orange is named after its most successful crop, discovered in 1873 after much trial and error by the local farming community. Only seven short years later, the town's tourist boom began with the construction of their first railroad depot. Competitive fares between rival rail companies attracted settlers and visitors to Orange, and over the passing years the area became known less for its citrus fruit and more popular for its proximity to major Southern California attractions. With a population of less than 150,000, Orange proudly calls itself "a major city with small-town ambiance." Seniors who choose
assisted living in Orange
will find both modernization and nostalgia in a city that has chosen to embrace its history and preserve its Old Towne structures.
Orange Recreation
Residents of assisted living in Orange can enjoy the flower gardens or play a quiet game of chess on the boards provided for them in Pitcher Park, a serene respite that prohibits all rolling locomotion--with the exception of wheelchairs, of course. For a more active encounter with nature, seniors may take a train ride or visit the small Orange County Zoo within the 477-acre boundaries of Irvine Park. The city of Orange is known for its innovative shopping experiences.
The Block at Orange
is an imaginative, open-air promenade which features both shops and movie theaters.
The Village at Orange
is a full-service modern mall, whereas the Old Towne Orange Historic District offers shoppers antiques and the country's oldest operating soda fountain.
Orange Activities
For appreciators of culture, the area surrounding Orange boasts six art museums, four concert halls and 10 performing arts theaters. Information and show schedules can be found on
Orange County's website
.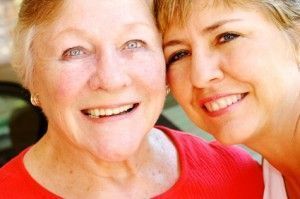 The
Orange Senior Center
is a vibrant facility with plenty of fun and services to offer residents of assisted living in Orange at both their primary location and their second center in the north area. The senior center provides six different support groups to help elderly residents cope with health challenges and other life issues.
Orange Medical Facilities
The healthcare needs of seniors enjoying assisted living in Orange are met at the
University of California, Irvine Medical Center
and
St. Joseph's Hospital
.
The Chapman Medical Center
is another full-service hospital which also specializes in geriatric psychiatry. This facility offers a free shuttle van to patients within a 10-mile radius.
Orange Transportation
Seniors have access to all area activities using the bus and train services offered by
Orange County Transportation Authority (OCTA)
. Residents of assisted living in Orange age 65 and older are eligible for a reduced fare ID card. The county's ACCESS service provides paratransit mobility for eligible citizens.
Cost of Assisted Living in Orange
Depending on size and location of the facility, monthly fees for assisted living in Orange can vary dramatically. For a one-bedroom, private unit, monthly costs can be as low as $1,450 or as high as $8,100, with a median monthly cost of $3,725.* Seniors planning on assisted living in Orange should budget approximately $44,700 per calendar year to cover the costs.
Find Assisted Living in Orange
The famous California sunshine that helps orange trees to thrive is also ideal for retirees. For more information about assisted living options in Orange, California, visit our
Orange Assisted Living
page.
Written by senior housing staff writer.
Back to Top