Los Angeles Retirement Communities
There is 1 Retirement Community in Los Angeles, CA and 7 Retirement Communities nearby.
Average Cost: $4,500
2236 Merton Avenue
Los Angeles, CA 90041
A non-profit continuing care retirement community in Los Angeles, Solheim Lutheran Home offers a wide range of care and services to its residents.
---
Back to Top
Reviews of Los Angeles Retirement Communities
The staff at Solheim is warm and welcoming to all their residents and go the extra mile to make them feel comfortable in their new "homes." They strive to make the environment safe and comfortable. I'm impressed with the upgrades they do to an older facility to make it up-to-date and attractive...
Read more Solheim Lutheran Home reviews
---
Back to Top
Map of Los Angeles Retirement Communities
Information About Retirement Community in Los Angeles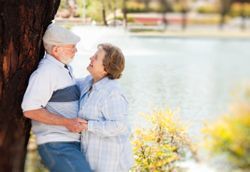 Los Angeles, CA is one of the better known cities around the world. Founded on September 4, 1781, the city has a rich cultural history and remains one of the most ethnically diverse cities in the country. Boasting 211 historical sites and associated with some of the most creative artistic minds in history, retirement communities in Los Angeles are near some of the most interesting and captivating locations to live in the world over.
Attractions
Los Angeles retirement Communities are located near some of the most famous music halls and cultural attractions in the country. Some fine examples are the LA Philharmonic and the Walt Disney Concert Hall. Residents and visitors enjoy the J. Paul Getty Museum as well as the historic districts in the area. The Page Museum at La Brea features the tar pits that made the site one of the most famous fossil depositories in the world. More than three million fossils have been discovered there. Food is another much-loved attraction in Los Angeles. The city is known by foodies the world over as being the birthplace of the Cobb Salad as well as French Dip, and LA continues to influence cuisine all over California and the rest of the country.
Senior Activities

The Department of Recreation and Parks supervises the operation of twenty-seven different senior centers in Los Angeles, CA. These centers offer activities and special events intended to accommodate seniors from any walk of life. These activities range from enrichment programs such as arts and crafts sessions or language courses to recreational activities such as dancing or croquet. These programs, parks and centers are located all over the city and can be easily referenced by visiting
www.laparks.org/dos/senior/seinor.htm
.
Medical Facilities
Seniors interested in Los Angeles retirement communities as a possible relocation option will be happy to learn that the city proudly hosts some of the best hospitals in the country. One outstanding example is the Ronald Reagan UCLA Medical Center. Recognized as one of the Best Nationally Ranked Hospitals in the nation by US News, Ronald Reagan UCLA Medical Center ranks not only #1 in the Los Angeles metro area but also distinguishes itself as being the number one hospital in all of California. The hospital was recognized as being one of the few hospitals evaluated to be ranked in more than one adult specialty, boasting ranks in the top 25 in the country for specializations such as Neurology and Neurosurgery, Rheumatology, Diabetes and Endocrinology, Cancer and Cardiology and Heart Surgery, among others. They are also recognized by US News with the Best award for their high performance in Orthopedics.
Los Angeles hosts yet another hospital that is recognized as ranking in more than one adult specialization: Cedars-Sinai Medical Center. Cedars is a not-for-profit teaching and research hospital that ranked in the top 35 for Geriatrics, Pulmonology, Urology, ENT, Cancer and several other specializations. Cedars is recognized by US News as being the #2 best hospital in Los Angeles, as well as all of California. The significance of these rankings should not be lost on the reader; there were more than 4,700 hospitals analyzed for the most recent Best Hospital rankings, and these two came out in the top 3% of the total number of hospitals scrutinized for superior care out of the entire nation.
Transportation
Like most cities, Los Angeles, has an extensive public transportation system. Los Angeles retirement communities will benefit from The LADOT transit services include DASH, Commuter Express and Cityride. Recently, LADOT released a real-time passenger information system which is updated via wireless technology. This state-of-the-art information system allows commuters to access route information by phone, text and web. The city government website provides a list of service contacts for other methods of transportation as well, including local cab companies, bicycling groups and more. Los Angeles is a fantastic place to retire. Any senior who enjoys a beautiful, lively city with a rich culture, fascinating history and a government passionate about looking after the needs of its senior citizens will find Los Angeles to be the perfect home.
Back to Top