Downey Assisted Living
There are 5 Assisted Living Facilities in Downey, CA and 30 Assisted Living Facilities nearby.
Average Cost: $4,500
Reviews of Downey Assisted Living Facilities
I went to Lakewood Park Manor and they were not prepared for me. The person that gave me the tour was not the person who normally gives the tour. I saw the room and the common areas, and they were nice. I liked the place. It was nice, and there's nothing wrong with it. They serve three meals...
Read more Lakewood Park Manor reviews
---
Lakewood Park Manor was dirty. The dining room did not look clean and the rooms didn't look clean. I had an appointment and they didn't know I was coming, so they had the receptionist take me around. She really couldn't give me a lot of information...
Read more Lakewood Park Manor reviews
---
I visited Lakewood Park Manor. The staff was good, but it wasn't as nice as the other community I visited. It's an older building and not as well-kept, so the upkeep doesn't seem very good.
Read more Lakewood Park Manor reviews
---
Back to Top
Map of Downey Assisted Living Facilities
Information About Assisted Living Facility in Downey
The city of Downey enjoys a prime location just 12 miles southeast of Los Angeles and five miles outside of the Orange County line. Bordered on two sides by scenic rivers and only 10 miles from the Pacific Ocean, this small city of just over 100,000 people is fortunate to have a nearly perfect climate with no extreme temperatures of either hot or cold. Seniors who choose assisted living in Downey will find their city to be a friendly and civic-minded community with emphasis placed on the safety and involvement of its citizens.
Downey Recreation
Downey has 100 acres of land devoted to 11 public parks. The largest of these, Wilderness Park, is described as a "tranquil" respite with rolling green hills. Seniors enjoying assisted living are invited to feed the ducks and geese in the park's two large ponds, and can even fish the well-stocked waters for rainbow trout. The city's two premiere shopping complexes are Downey Landing Center and
Stonewood Center
. Each one contains a wide variety of retail shops, a food court and several full-service restaurants. The Downey Farmers' Market is held downtown on Saturday mornings. Movie lovers can catch the latest Hollywood productions on one of the 10 screens of the Krikorian Theater.
Downey Activities
Downey is fortunate to have a central location no more than 30 minutes away from all of Southern California's famous theme parks and attractions. There is always plenty to do! Residents of assisted living in Downey find quality entertainment and learning experiences within their own city limits at the
Columbia Memorial Space Center
or the Downey History Center. After a nostalgic dinner at the world's oldest McDonalds, enjoy a musical show, opera or symphony at
Downey Theatre
. The Barbara J. Riley Senior Center is the local headquarters for games, dancing or enrolling in a class for fun or wellness. Each year, the facility holds its annual "Senior Follies Show" featuring its own club members. The senior center is also a valuable place for your loved one to find helpful resources such as legal and tax assistance.
Downey Medical Facilities
The Downey Regional Medical Center
has been evolving and improving its services since its original establishment in 1920. The hospital offers numerous Wellness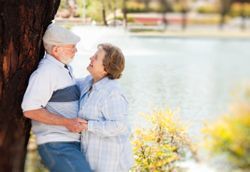 Programs, including a series of four diabetes management classes. The city is also home to the
Rancho Los Amigos National Rehabilitation Center
. There are three other major healthcare facilities easily available to seniors enjoying assisted living in Downey:
Promise Hospital of East Los Angeles
,
Bellflower Medical Center
and
Kaiser Permanente
, also in Bellflower.
Downey Transportation
Downey LINK
is an inexpensive public transportation system which carries residents from communities of assisted living in Downey all over the city and connects them with
MTA
, Los Angeles County's Metro Transportation Authority. Downey LINK also operates a paratransit dial-a-ride service available to seniors and the disabled.
Cost of Assisted Living in Downey
The cost of assisted living care in Los Angeles County ranges from a low of $1,200 per month to a high of $6,908, with a median monthly rate of $,3600. Seniors who choose assisted living in Downey should expect to pay an average of $43,200 annually for care.*
Find Assisted Living in Downey
Downey is a pleasant and centrally-located Southern California retirement option for your senior loved one. To learn more about local senior housing communities, visit our
Downey Assisted Living
page.
Written by senior housing staff writer
.
Back to Top