Claremont Assisted Living
There are 12 Assisted Living Facilities in Claremont, CA and 30 Assisted Living Facilities nearby.
Average Cost: $4,500
2053 North Towne Avenue
Claremont, CA 91711
Just minutes away from the Village, Sunrise of Claremont sits in beautiful North Claremont attached to the historic Pitzer House and offers superb assisted living and memory care to local seniors.
---
120 West San Jose Ave
Claremont, CA 91711
At Claremont Place, we support our residents both physically and emotionally while providing them with the very best in assisted living and memory care accommodations and services.
---
650 W. Harrison Avenue
Claremont, CA 91711
Seniors joining the Claremont Manor community will have an exciting adventure that allows the best of their life to shine through while having nearby supportive services.
---
501 S. College Avenue
Claremont, CA 91711
Making a decision to put loved one in the care of others is difficult but here at Oak Park Manor we help families make the decision by providing their loved ones the right care and help to make the move easier and improve the quality of life
---
By entrusting your loved one to Oak Park Manor, not only will you have peace of mind, but your loved one will thrive in an environment that is tailored to meet their special needs.
---
715 West Baseline Road
Claremont, CA 91711
Mountain View Alzheimer's Care Centers is an assisted living community that specializes in memory care for seniors with Alzheimer's and dementia.
---
---
---
---
---
---
715 WEST BASELINE ROAD
Claremont, CA 91711
---
Back to Top
Reviews of Claremont Assisted Living Facilities
---
---
---
---
---
Back to Top
Map of Claremont Assisted Living Facilities
Information About Assisted Living Facility in Claremont
Claremont, California is a very "smart" place to live. This small community of under 50,000 residents is nicknamed the "City of Trees and PhDs" because of its lush parks and collection of seven academic institutions. The city is nestled in the foothills of the San Gabriel Mountains just 30 miles east of Los Angeles.
Assisted living in Claremont
is an excellent choice for seniors who enjoy intellectual pursuits and an environmentally-conscious atmosphere.
Claremont Recreation
As a National Arbor Day Association's Tree City USA Award Winner for 24 consecutive years, Claremont prides itself on offering plenty of open spaces for local recreation. Residents of
assisted living in Claremont
who seek fresh air can stroll through the
Rancho Santa Ana Botanic Garden
or the 16 lush gardens of the 
The John R. Rodman Arboretum
at Pitzer College. For seniors who prefer window shopping to bird watching, there are numerous retail complexes in the city.
The Claremont Village
comprises the city's main retail district and is home to the 
Claremont Village Square
, a unique collection of shops and restaurants set around a European-style town square.
Claremont Activities
Residents with an interest in dinosaur bones will enjoy the
Raymond M. Alf Museum of Paleontology
, and for slightly more modern historians, the
Claremont Heritage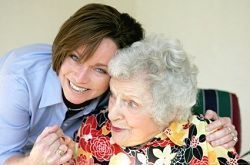 society offers a variety of tours and events. Pomona College brings art and science alive through their elaborate
art museum
and
Millikan Planetarium
. Nightly entertainment can be found at the
Candlelight Pavilion Dinner Theater
, and during the final months of the year, the Claremont Village hosts the magical Holiday Promenade with festive lights, live music and non-stop shopping. A variety of classes and clubs are organized at both the Joslyn Senior Center and the Blaisdell Community Building. Residents of
assisted living in Claremont
are welcome to join bingo and bridge games, knitting groups, movie screenings and many other programs sponsored by the city.
Claremont Medical Facilities
The
Claremont Medical Center
is the most fully-equipped medical clinic in the area, offering access to comprehensive healthcare for communities of
assisted living in Claremont
.
Pomona Valley Hospital
and
San Antonio Community Hospital
are located in neighboring areas to service longer hospital stays and in-patient special care needs.
Claremont Transportation
There are numerous public transportation options to help seniors travel to and from communities of
assisted living in Claremont
. Both
Foothill Transit
and
Pomona Valley Transportation Authority
offer local bus services.
Metrolink
carries passengers further beyond the city limits. The 
Claremont Dial-A-Ride
service is open to all residents, both young and old, but only senior citizens are invited to use the
Get About
door-to-door transportation program. Claremont is an especially good choice for retirement living thanks to the city's robust senior services program, which offers many extra advantages for the elderly. To learn more about senior communities in this area, visit our
Claremont Assisted Living
page.
Written by senior housing writing staff.
Back to Top