Sue Johnso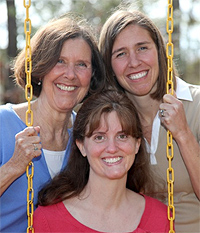 n, an honors graduate of Wheaton College, is the founder of Heartstrings Press. She has also operated Gramma's Graphics, Inc., a mail-order business specializing in blueprinting and sunprinting kits for the past thirty years.
A mother of three, grandmother of seven and an honorary mother of eight exchange students, Sue is passionate about family. When her initial Grandloving query to 150 of their friends snowballed into 350 responses, Sue knew she'd struck a chord with enthusiastic grandparents. As a long-distance grandmother, she uses ideas from her years as a teacher to enliven communications with her grandchildren.
Sue has become known as a contemporary grandparenting expert, serves as a judge for the prestigious Mom's Choice Award, and helps families connect. She and Rick, her husband of 51 years, live in Lancaster, Virginia.
GRANDLOVING helps you be a grandparent that every child wants! Grandloving's heartfelt ideals let you connect, bond, and grow close with your grandchildren.
Their site and book feature hundreds of tips and projects for you to use with your family, whether they live around the corner or across the globe.
GRANDLOVING: 5th Edition
Grandloving features hundreds of engaging, low-cost activities to do together or send in the mail. Grandloving is family-written by Grandma Sue Johnson, her daughter-in-law, Julie Carlson, and daughter Elizabeth Bower.  Grandloving has been selected as one of the five finalists for Favorite Grandparenting Book in the2012 Readers' Choice Awards, sponsored by About.com. Grandloving: Making Memories with Your Children, 5th edition is also a winner of 8 National Parenting Awards.
Many thanks to Tyler over at Get Smells Out for telling us about Grandloving and the great work that they're doing.