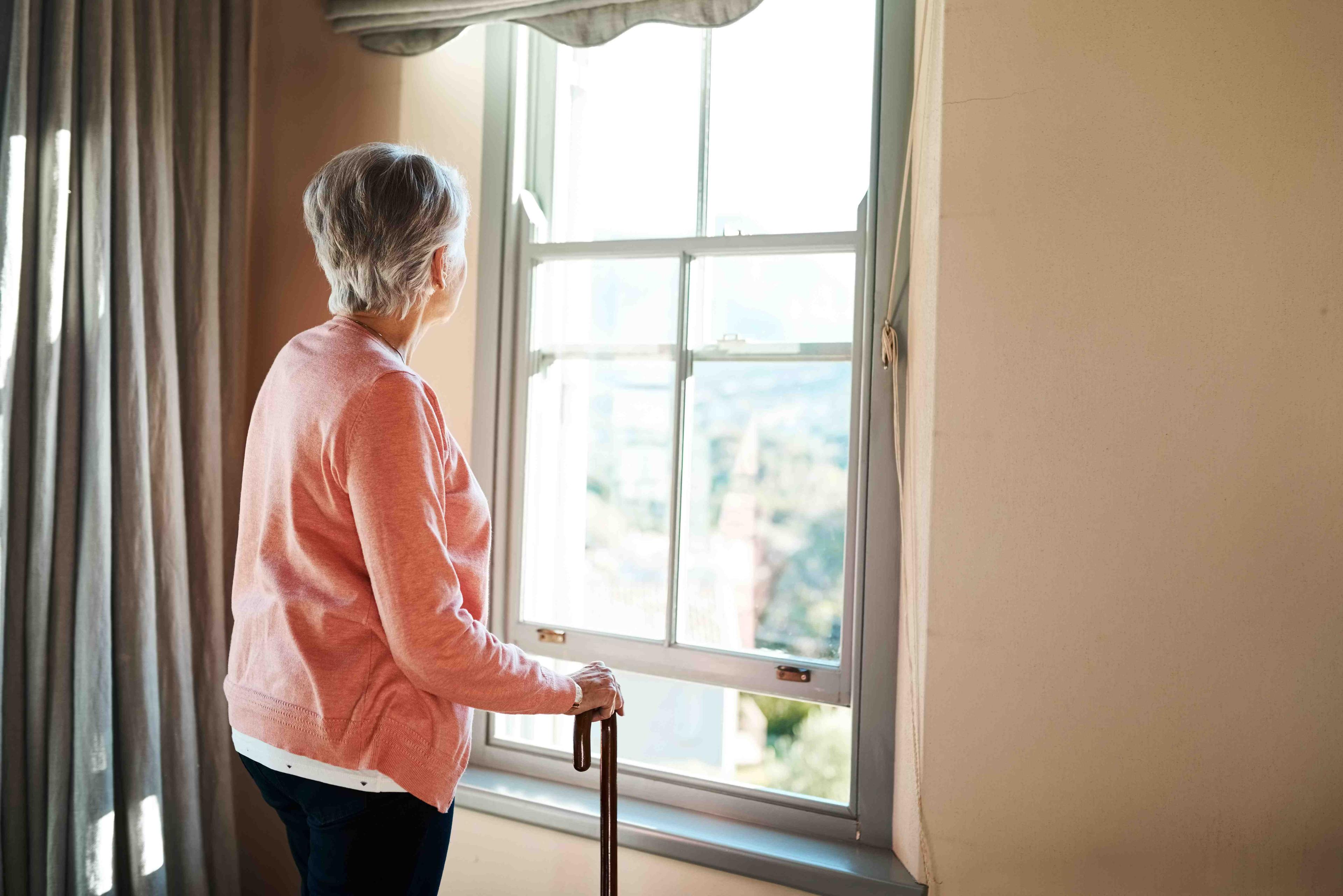 Assisted Living for People With Mental Health Disorders
Reviewed By: Dr. Brindusa Vanta, MD
If you've found your mental health declining as you age, you're not alone. One quarter of all seniors report anxiety or depression. Men aged 65 and older are at the highest risk of suicide. Those age 85 and older, regardless of their gender, are the second-most likely age group to die from suicide in the United States. Older adults experience stressors that can impact mental health, including financial worries, grief and loneliness. Declining physical health and struggling with tasks you once found easy compound the situation. However, poor mental health isn't a normal part of aging.
Despite the high rate of mental health concerns in seniors, less than 50% receive treatment, according to data from 2019. Senior living is one option for better mental health. An assisted living community provides stability, structure and support. Living in a community helps combat loneliness, which is one of the biggest contributors to depression. Having support with carrying out activities of daily living while simultaneously eliminating the need to cook or do housekeeping also lowers stress and gives seniors time to do what makes them happy. 
Understanding how senior living can benefit mental health can help you decide whether a move to assisted living can improve your well-being. 
Common Mental Health Conditions That Impact Seniors
Anxiety Disorders
Anxiety disorders are characterized by excessive nervousness, fear and worry that interfere with your ability to function and be happy. It's estimated that nearly 4% of older adults worldwide have an anxiety disorder.
Risk Factors for Seniors
Chronic medical conditions
General poor health
Medication side effects
Decreased mobility
How to Manage Anxiety
Typically, a combination of psychotherapy and medication manages anxiety disorders. It also helps to get plenty of sleep, avoid stimulants such as caffeine and talk about worries. Senior living can help ease worry or stress because you know there's someone available to help in an emergency. 
Bipolar Disorder
Bipolar disorder causes extreme mood swings, from euphoria to depression. These swings impact your sleep, judgment,  behavior and daily activities. Although bipolar disorder is usually seen in young people, 0.1%-0.5% of seniors are diagnosed with late-onset bipolar illness.
Risk Factors for Seniors
How to Manage Bipolar Disorder
There are a number of medications that can help you manage bipolar disorder. Non-medication treatments include psychotherapy and stress management techniques. 
Depression
Depression is a mood disorder that affects how you feel, think and manage daily activities. Symptoms include feeling hopeless, irritable, sad or worthless. Other common signs include having difficulty with concentration, loss of energy and a loss of interest in hobbies and activities you once enjoyed. The Centers for Disease Control and Prevention (CDC) estimate that 1%-5% of older Americans living in the community and over 10% of seniors who are hospitalized or require home care have depression.
Risk Factors for Seniors
Serious health conditions, such as cancer and heart disease
Some medications
How to Manage Depression
Professionals can help you manage depression through psychotherapy and medications. It also helps to connect to family and friends, stay active and take care of your body by exercising, eating well and getting enough sleep.
Eating Disorders
Eating disorders are serious mental illnesses that affect a person's eating behaviors. Those with eating disorders are often preoccupied with their weight, food and body shape. Symptoms can include binge-eating, avoiding food, excessive exercise, use of laxatives or forced vomiting. As eating disorders are normally considered a disease of young people, there isn't data about the number of older adults impacted. 
Risk Factors for Seniors
How to Manage Eating Disorders
Psychotherapy and counseling services are useful to help people cope with eating disorders and self esteem issues. Residential senior care that provides meals in a community setting can help increase appetite and ensure you're getting adequate nutrition.
Medication Misuse
Medication misuse is defined as improper use of  prescription medicine, including opioids, anti-anxiety medicines and stimulants. In 2018, nearly 1 million people age 65 or older reported having a substance use disorder.
Risk Factors for Seniors
Changes in metabolism
Increased sensitivity to drugs
Taking more medications for other health conditions
How to Manage Medication Abuse
There are drug treatment centers designed specifically for seniors. This can include support groups for older adults with substance use disorder. Doctors recommend inpatient treatment if detox is needed, as seniors are at increased risk of complications.
Post-Traumatic Stress Disorder
Post-traumatic stress disorder (PTSD) is often triggered by witnessing or experiencing a traumatic event. Symptoms can include anxiety, flashbacks and nightmares. It's estimated that between 1.5% and 4% of people aged 60 and over have PTSD. This may have been diagnosed at a younger age or caused by a traumatic event experienced as a senior. 
Risk Factors for Seniors
Lack of support after traumatic event
Additional stress after the event, such as an injury
Loss of support structures
How to Manage Post-Traumatic Stress Disorder
Medication and psychotherapy are the most common treatments for PTSD. A senior living community can help people with PTSD develop social connections.
Risks Factors for Mental Health Conditions in Seniors
In addition to specific risk factors for the conditions discussed above, there are more general risk factors for mental health conditions that older adults experience. These include:
Alzheimer's disease and other forms of dementia
Certain medications
Chronic pain
Chronic stress
Grief
Isolation and loneliness
Change of life circumstances, such as retirement or loss of a spouse
Warning Signs of Mental Health Disorders in Seniors
Mental illness often goes undiagnosed in seniors. Symptoms can be dismissed as normal signs of aging, meaning older adults don't get the care they need. The following warning signs could indicate that you're experiencing mental illness:
Fighting with friends and family
Changes in sleeping and eating patterns
Feeling emotionless
Thinking of hurting yourself or others
Feeling angry, upset, confused or scared
Withdrawing socially
No longer maintaining personal care routines
Loss of interest in activities
Housing Options for Seniors Living With Mental Health Conditions
There are many living options for seniors that can benefit people with mental health conditions. Different housing options work for different people. 
Assisted Living for People With Mental Health Conditions
Assisted living is a residential care option where seniors live in individual rooms or apartments and receive assistance with activities of daily living (ADLs). Community amenities include meals, transport and social activities. The built-in social network can help combat depression, anxiety and other conditions. 
| Pros | Cons |
| --- | --- |
| Nutritional meals are provided | May not be able to provide a high level of care for seniors with severe symptoms |
| Social calendars keep seniors active and engaged | Some seniors struggle in a highly social environment |
| Staff are available 24/7 to provide support | Moving from a familiar environment may exacerbate some conditions |
| Includes personal care, housekeeping and linen services to help people with mental health disorders maintain their hygiene and living space | |
Nursing Homes for People With Mental Health Conditions
Nursing homes are designed to provide the highest level of care to seniors. People in nursing homes don't need to be hospitalized but can't be cared for at home or in assisted living. Round-the-clock caregivers can ensure people with mental health conditions always have access to assistance. 
| Pros | Cons |
| --- | --- |
| Medical staff on hand to manage symptoms and medication | Lack of control and independence can increase feelings of hopelessness |
| Healthy meals provide nutrition | Residents are often cut off from their community, leading to feelings of isolation |
| Structured schedules help reduce stress and improve sleep | The expense of nursing home care can increase stress and anxiety |
In-Home Care for People With Mental Health Conditions
In-home care provides personal care services and assistance with activities of daily living in the home. Home health care provides skilled nursing in the home and can include medication management. Seniors can get assistance maintaining personal routines and housekeeping, which are often neglected when someone has a mental health condition. 
| Pros | Cons |
| --- | --- |
| Caregivers regularly visit, providing social interaction | May not provide the level of care required |
| Stay in the home, providing a stable environment | Assistance isn't normally available around-the-clock |
| Seniors can stay living with loved ones who don't require assistance, keeping support structures intact | Less social interaction than other senior living options |
The Benefits of Senior Living for Seniors With Mental Health Disorders
For seniors with mental health conditions, senior living can be a step toward restoring their well-being. The benefits of assisted living for seniors with mental health disorders include:
A sense of belonging: Assisted living facilities come with a built-in community and opportunities for socialization.
Peace of mind: Staff are always on-site, alleviating worries about falls, medications and other issues.
Healthy routines: The routines reduce stress and help ensure personal needs are taken care of.
Engagement and activities: Friends and activities in assisted living communities give residents a new sense of purpose. 
What to Look for in an Assisted Living Community for Seniors with Mental Health Disorders
Click the button below to download your Check List for Assisted Living Communities for Seniors with Mental Health Disorders.
Download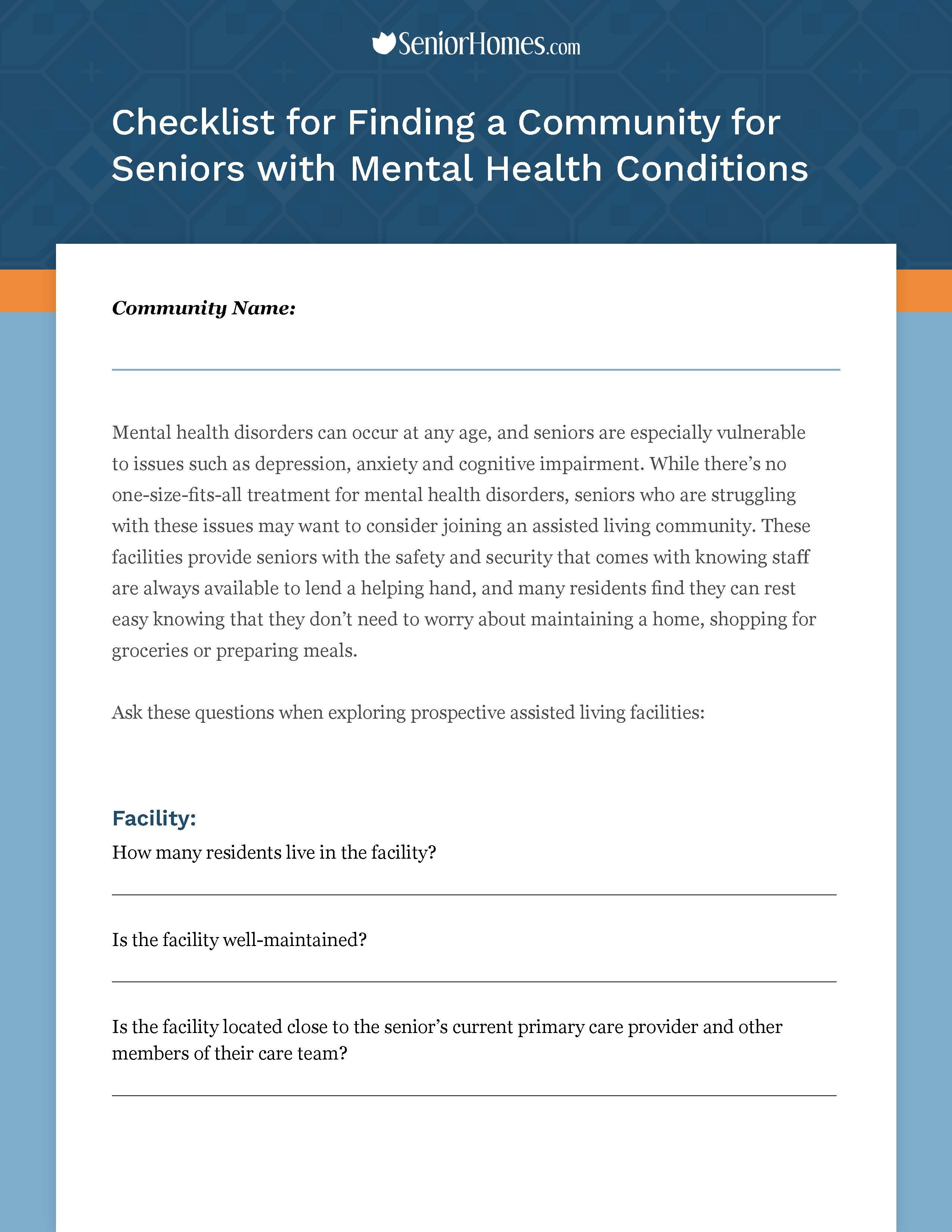 When Should Someone With a Mental Health Condition Consider Senior Living?
The stability, structure and sense of community found in assisted living can help seniors manage mental health issues. Here are some signs that it may be time to for an older adult to consider a senior living community:
Unwillingness or inability to care for themselves
Social isolation
A need for help managing medication
An inability to follow their treatment plan
Independent living is no longer safe
Rising anxiety over safety concerns or isolation
Who May Not Be a Good Fit for Senior Living?
Senior living isn't for everybody. People who experience moderate-to-severe mental health symptoms may not be able to get the care they need in senior communities. In most states, assisted living facilities can't accept residents if they pose a danger to themselves or others, as they require special medical care. Staff in assisted living facilities do not have specialized mental health training, which can limit the type of care they offer. 
State Resources for Mental Health Assistance
State Department
Contact
Assistance Available
Alabama Department of Mental Health
(800) 367-0955

Crisis centers
Mobile crisis care

Alaska Department of Health, Division of Behavioral Health
(800) 465-4828

Alaska Careline
Mental health continuum of care

Arizona Health Care Cost Containment System
(800) 654-8713

Funds mental health care for eligible residents

Arkansas Department of Human Services
(501) 686-9164

Public mental health system
Drug treatment programs

California Department of Health Care Services
(800) 541-5555

Peer support services
Specialty mental health and drug programs

Colorado Department of Human Services
(844) 493-8255

State mental health hospitals
Colorado Crisis Care

Connecticut Department of Mental Health and Addiction Services
(860) 418-7000

Directory of services
Trauma-related services
Behavioral health homes

Delaware Department of Health and Social Services
(302) 255-9399

Mental health and substance abuse programs
Delaware Psychiatric Center
Peer support and community-based services

Florida Department of Children and Families
(800) 985-5990

Crisis services
State mental health facilities
Community programs

Georgia Department of Behavioral Health and Developmental Disabilities
(800) 715-4225

Georgia Crisis and Access Line
State mental health hospitals

Hawaii Department of Health
(808) 453-6981

Community mental health centers
Hawaii State Hospital
Crisis helpline

Idaho Department of Health and Welfare
(800) 926-2588

Adult behavioral health program
Crisis centers
Recovery community centers

Illinois Department of Human Services
(800) 843-6154

Coordinates mental health treatment organizations


Mental health hospitals

Indiana Family and Social Services Administration
(800) 901-1133

Mental health hospitals
Recovery and rehabilitation programs

Iowa Department of Health and Human Services
1-800-972-2017

Crisis services
Inpatient psychiatric services
Disaster assistance



Kansas Department for Aging and Disability Services
(785) 296-4986

Treatment and recovery support
Mental health nursing facilities

Kentucky Department for Behavioral Health, Developmental and Intellectual Disabilities
(502) 564-4456

Regional community mental health centers
Peer support services
Supportive housing

Louisiana Department of Health
(225) 342-9500

State psychiatric facilities
Behavioral health clinics
Suicide prevention training
Peer support programs

Maine Office of Behavioral Health
(207) 287-3707

Crisis services
Early intervention
Residential treatment
Recovery support

Maryland Department of Health
(410) 767-6500

Behavioral health walk-in and urgent care centers
State mental health hospital

Massachusetts Department of Mental Health
(833) 773-2445

Behavioral health helpline
Supplemental mental health services for eligible residents

Michigan Department of Health and Human Services
(888) 733-7753

Peer support helpline
State psychiatric hospitals
Behavioral health clinics

Minnesota Department of Human Services
(651) 431-2225

Crisis services
Rehabilitative services
Short-term inpatient treatment
Residential care

Mississippi Department of Mental Health
(601) 359-1288

Mobile crisis response teams
Peer support and community services
State hospitals and community mental health centers

Missouri Department of Mental Health
(800) 364-9687

Crisis intervention hotline
Evaluation, treatment and rehabilitation services

Montana Department of Public Health and Human Services
(406) 444-3964

Crisis intervention and response
Drop in center
Mental health centers
Mental Health Nursing Care Center

Nebraska Department of Health and Human Services
(402) 471-3121

Psychiatric hospitals
Prescription assistance program
Community-based services

Nevada Division of Public Health and Human Services
(775) 684-4200

Inpatient services
Crisis response
Substance abuse prevention and treatment

New Hampshire Bureau of Mental Health
(833) 710-6477

Community mental health centers
Mental health helpline
Rapid response crisis system

New Jersey Division of Mental Health and Addiction Services
(800) 382-6717

Peer support programs
Community wellness centers
Recovery support
Early intervention services

New Mexico Human Services Department
(800) 283-4465

Oversees organizations that provide mental health services

New York Office of Mental Health
(800) 597-8481

Crisis prevention
Mental health program directory

North Carolina Department of Health and Human Services
(984) 236-5000

Crisis care
Community behavioral health clinics
Assertive community treatment

North Dakota Department of Health and Human Services
(701) 328-8920

Regional human service centers
State hospital

Ohio Department of Mental Health and Addiction Services
(614) 466-2337

Mental health insurance assistance
Behavioral health care
Substance abuse programs

Oklahoma Department of Mental Health and Substance Abuse Services
(405) 248-9200

Support groups
Urgent recovery and crisis center
Community behavioral health clinics

Oregon Health Authority
(503) 945-5772

State hospital
Community mental health program
Peer-delivered services

Pennsylvania Department of Human Services
(800) 692-7462

Crisis hotline
Care provider database
Assertive community treatment
Peer support programs



Rhode Island Behavioral Healthcare, Developmental Disabilities and Hospitals
(401) 462-2339

State psychiatric hospitals
Peer support programs

South Carolina Department of Mental Health
(803) 898-8581

Crisis resources
Community mental health centers and clinics
Treatment plans

South Dakota Department of Social Services
(605) 773-3165

Community mental health centers
Peer support
Crisis services
Inpatient treatment

Tennessee Department of Mental Health and Substance Abuse Services
(855) 274-7471

Crisis services
Peer recovery services
Safety net
Older adult programs

Texas Health and Human Services Commission
(877) 541-7905

Crisis services
Mental health housing
Peer support

Utah Department of Health and Human Services
(801) 538-3939

Treatment services
Crisis services
Recovery support

Vermont Department of Mental Health
(802) 241-0090

Peer services
Psychiatric hospital
Outpatient programs
Community rehabilitation and treatment

Virginia Department of Behavioral Health and Developmental Services
(804) 786-3921

Community services
State psychiatric facilities

Washington Health Care Authority
1-800-562-3022

Oversees organizations that provide mental health services

West Virginia Bureau for Behavioral Health
(304) 558-0627

Comprehensive behavioral health centers
Recovery support

Wisconsin Division of Care and Treatment Services
(608) 266-1865

Care and treatment facilities
Community treatment services
Peer services

Wyoming Department of Health
(800) 535-4006

Peer support programs
Crisis support
Community mental health treatment