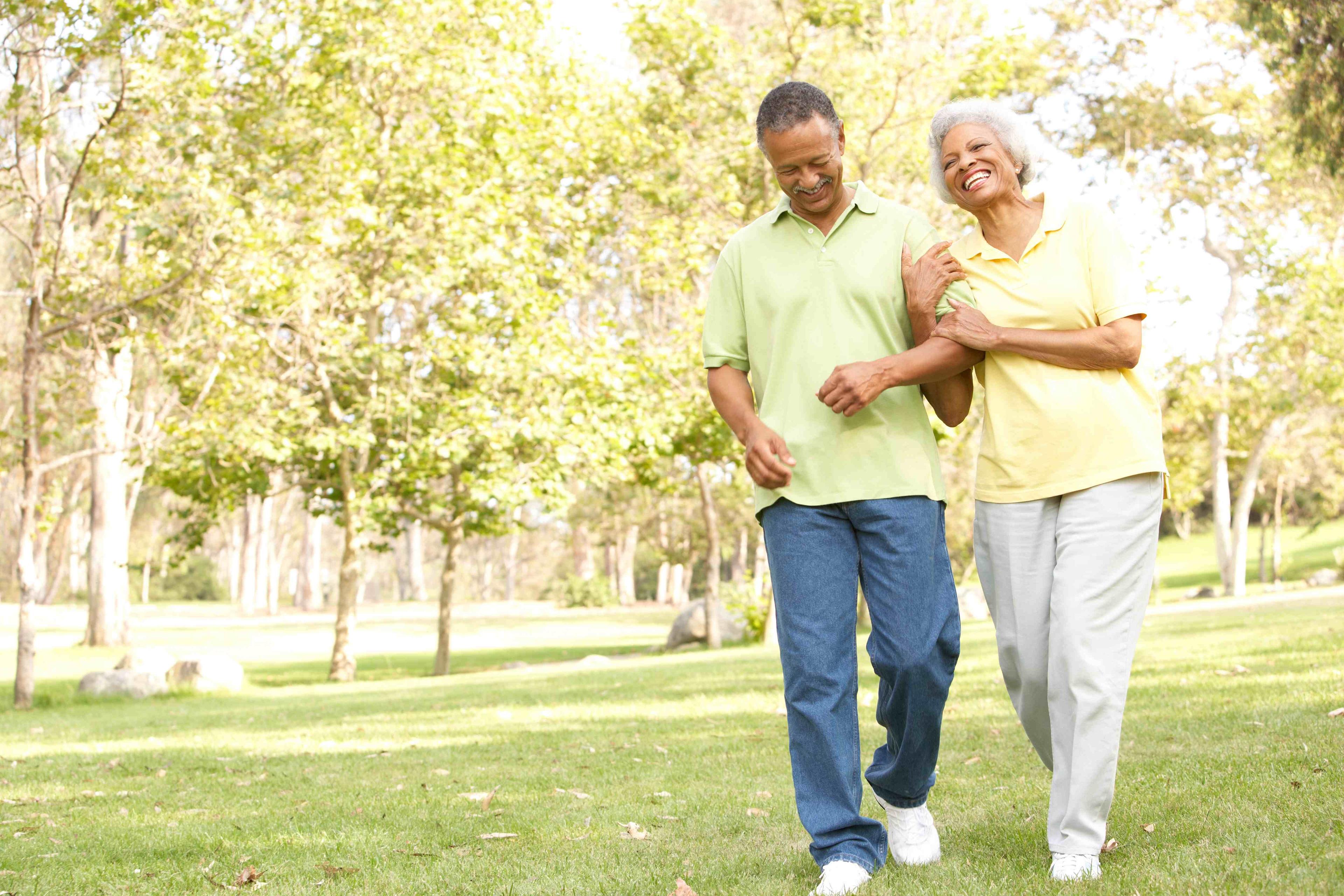 Finding Assisted Living for African American Seniors
Reviewed By: Molli Grossman, PhD
As Americans, we want the best for our families and our loved ones, but for many members of the African American community, the best may seem out of reach, particularly when it comes to long-term care. Although laws have been in place to prevent racial discrimination for decades, segregation still exists in the nation's nursing homes.
Studies have shown that areas with higher levels of segregation, particularly in the Midwest, are linked to a lower quality of care, including inadequate staffing and serious inspection deficiencies that pose immediate harm to residents. Black nursing home residents are more likely to reside in low-quality nursing facilities. Many of these facilities eventually have their contracts terminated for failing to meet the program's quality standards. Black seniors are also more likely to experience delays related to admissions and transfers due to racial discrimination. With proper planning and adequate research, families can avoid these challenges and find a facility that offers quality care to all its residents. 
This guide provides an overview of the challenges Black families face when seeking assisted living and long-term care. It offers tips on managing guilt and difficult emotions and finding quality facilities that deliver culturally appropriate services and supports.
What Challenges Do African Americans Face When Seeking Senior Living?
Moving a loved one into an assisted living facility or long-term care community is a difficult decision, but the process can be even more challenging for Black and African American families. Here are a few of the barriers that seniors of color face.
Discrimination
According to research from the Claude Pepper Center at Florida State University, Black, white and Hispanic seniors enter nursing homes at different rates. Over the past several decades, fewer Caucasian residents have been entering nursing homes. Consequently, Black seniors now account for 15% of all nursing home residents, up from 10% in 2007.
Although Black seniors are more likely to require nursing home care due to poor health, they often face barriers when accessing the care they need. According to the Alzheimer's Association, over half of Black families say they've experienced discrimination when seeking care for an elderly loved one with dementia. In addition to being denied admission, they may receive a lower priority rating when they're added to waiting lists.
Families may also be concerned about a culture of racism that exists within these communities due to older residents who have outdated beliefs and cultural perceptions. Residents aren't the only ones affected. Three out of four racially diverse nursing aides said that they experienced racism while on the job.
Financial Challenges
Due to decades of systemic racism, Black seniors may not have the financial resources needed to pay for assisted living out of pocket. Today, the median cost of assisted living care is $4,500 per month, which works out to about $54,000 per year. Individuals who are unable to afford these fees may be able to receive financial assistance through Medicaid and other state programs. However, there are some limitations. Applicants must have limited income and few assets. Once approved, they must receive care from a participating facility.
Because Medicaid only pays a fixed rate to these facilities, many for-profit providers choose not to participate in these programs. Federal budget cuts may reduce the amount of money available for Medicaid long-term care, forcing businesses to drop these patients. In other cases, poor-quality facilities may be removed from the program for failing to meet national standards. Either way, the outcome is the same. Families must find another place for their loved ones to live before they face eviction.
Cultural Distrust
Due to infamous atrocities, such as the Tuskegee syphilis study and the story of Henrietta Lacks, whose cervical cancer cells were collected without her consent, many Black Americans struggle to trust members of the medical field. Even today, Black Americans are reluctant to participate in clinical trials that could lead to breakthrough treatments for chronic diseases, such as Alzheimer's. Nearly 70% say they're afraid of being treated like a guinea pig, and 45% are concerned about treatment risks. They also feel that any resulting treatments wouldn't be distributed fairly, which would prevent them and other members of the community from enjoying the potential benefits. Cultural distrust prevents Black seniors from seeking timely care and leads to poorer outcomes.
Lack of Culturally-Competent Care
According to research from the Alzheimer's Association, only 48% of Blacks say they're confident they can access culturally competent care, and only 20% say they have no barriers when it comes to accessing excellent medical care. Additionally, when Black Americans do access health care, they're more likely to visit primary care physicians who have less training than those who serve predominantly white patients. Seniors who are facing the prospect of moving into an assisted living facility may worry that they're giving up their culture and community connections. This can make it more difficult to make the transition, even when skilled care is needed.
How Can You Manage The Cultural Guilt of Moving a Loved One to Assisted Living ?
Watching your parents or grandparents navigate the aging process can be a difficult and emotional experience. In many cultures, there's pressure to care for loved ones at home and to take personal responsibility for their health and well-being. This can place a great deal of strain on family caregivers. While it's normal to feel mixed emotions about moving a loved one into a residential community, here are a few reasons to stop feeling guilty:
Obtain Quality Care
Many family caregivers feel like they're letting their loved one down or breaking a promise by stepping away from caregiving and deciding to move their parent or elderly relative into a long-term care facility. However, there are numerous advantages. These facilities have certified staff, physical therapists, emergency call systems and other features that aren't available at home. 
Avoid Nursing Home Placement
Assisted living is an excellent alternative that can keep seniors out of nursing homes. These facilities have boomed since the 1990s, and they're a key reason why fewer older Caucasians are entering skilled nursing facilities today. Black seniors can enjoy these same benefits. Assisted living facilities accommodate seniors who require help with multiple daily activities but don't need around-the-clock medical monitoring. They even accept patients who are on hospice.
Benefit from Social Advantages
Long-term care communities have an upbeat, social atmosphere, unlike the nursing homes of decades past. Many families are surprised by how their loved ones adapt and even thrive in these new environments. Assisted living facilities make it easy for seniors to make friends and stay active, which can improve their quality of life.
Avoid Financial Strain
Family caregivers often experience burnout and emotional strain, but it can also take a financial toll. According to AARP, the average family caregiver spends over $7,200 of their own money to cover rent or mortgage payments and fund home modifications. Black families are disproportionately affected, using 34% of their household income to care for loved ones. Moving your relative into assisted living may be the best decision for them and the best choice for you.
Enhance Communication
Work to maintain a positive relationship with facility administrators and staff members who are caring for your loved one. Ask questions and bring up any concerns that you have as soon as possible. Staff will let you know of any major changes to keep you informed.
Visit Often
Work with family members and friends to develop a visitation schedule. Regular visits from family can help to smooth the transition, and it can provide peace of mind for you. Face-to-face visits give you a more accurate picture of how your loved one is doing compared to phone calls or other methods. 
Connect With Others
If you're struggling to cope with grief, guilt and other difficult emotions, reach out to a friend, pastor or support group. Others may be experiencing a similar situation, and you may be available to gain strength by supporting one another. Journaling may also be helpful for maintaining your well-being.
Downloadable Checklist: What To Look for in an Assisted Living Community for an Older African American Loved One
Take this checklist with you as you tour communities to ensure it has everything your loved one needs to feel safe and supported in their new community.
Download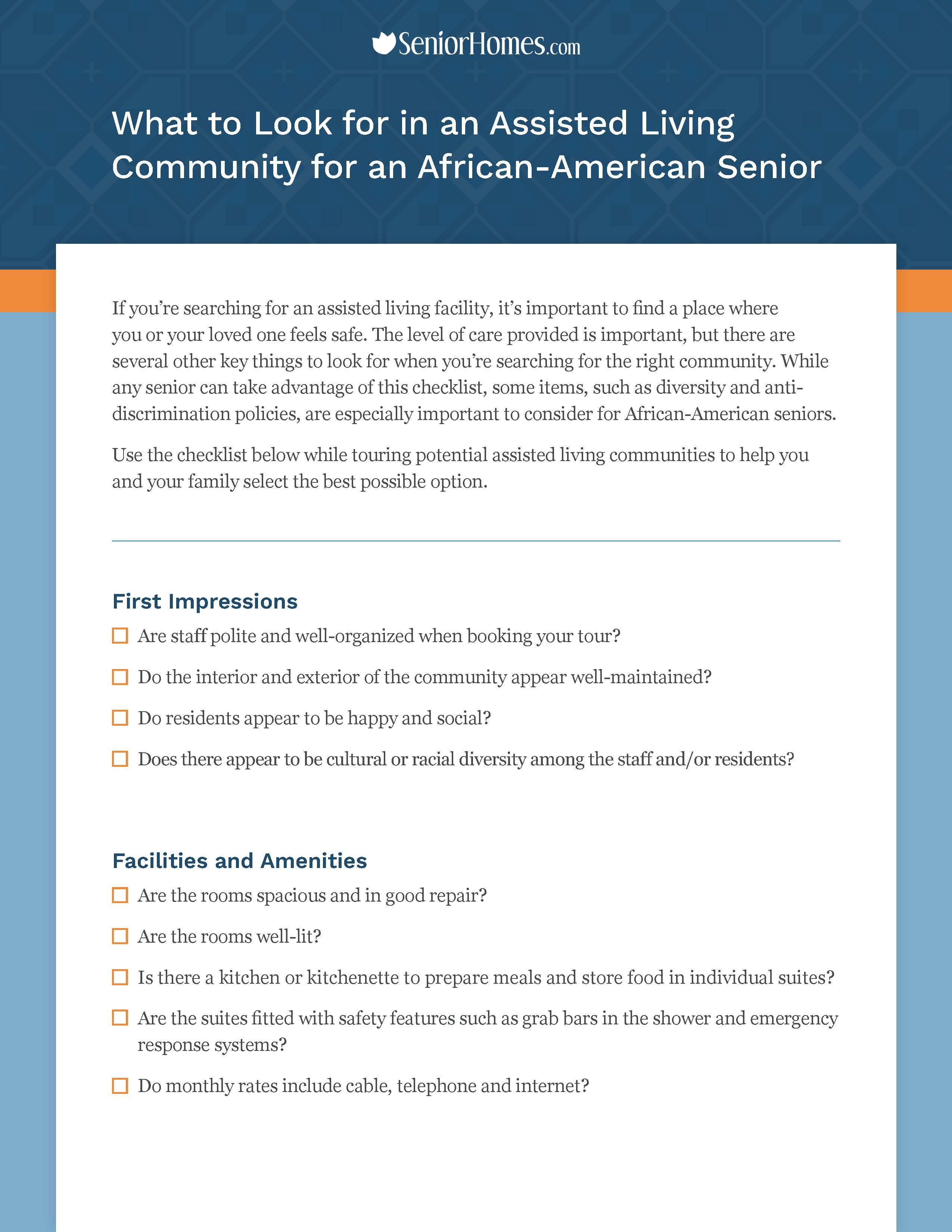 Resources for African American Seniors
Thanks to an important piece of legislation called the Older Americans Act, all seniors have access to free information and assistance starting at age 60. In addition to services provided by your county's Area Agency on Aging, you may be available to find additional resources through groups that focus on serving African American seniors.
| Resource | Contact | Description |
| --- | --- | --- |
| Diverse Elders Coalition | info@diverseelders.org | The Diverse Elder Coalition comprises six national organizations representing diverse communities, including Black and African American seniors, Native Americans and Pacific Islanders. These organizations have come together to influence policy and develop programs that improve seniors' quality of life. It offers a wide array of multimedia resources to support healthy aging and self-sufficiency. |
| National Caucus and Center on Black Aging | contact@ncba-aging.org | Sponsored by USC's School of Social Work and Institute on Aging, the AAAE is committed to improving seniors' physical and mental health and overall quality of life through outreach, education and advocacy. It also has partnerships with other nonprofits, government agencies and academic organizations that are active in the greater Los Angeles area. |
| Advocates for African American Elders | info@aaaeonline.com | Providing comprehensive care for residents requiring assistance, Fremont Healthcare Center offers personalized care plans, 24/7 skilled nursing care, and social and nutritional services. Rehabilitation and long-term care plans are also available. |
| Sistahs Aging With Grace and Elegance | Online Form | SAGE is a California-based nonprofit and support network that empowers African American women as they transition into their golden years. It publishes a newsletter, sponsors events and directs members to additional resources. The organization's goal is to support women's physical, mental, financial and emotional wellness. It also recruits members to an advisory council where they can share their knowledge with others. |
| Alzheimer's Association, Resources for Black Seniors | (800) 272-3900 | The Alzheimer's Association provides a variety of services aimed at serving members of the Black community. Since African Americans experience Alzheimer's and dementia at twice the rate of the overall population, one of the organization's goals is to improve health equality. It does this by supporting studies to investigate this disparity and by working with community partners, such as the African Methodist Episcopal Church and the Association of Black Women Physicians. |